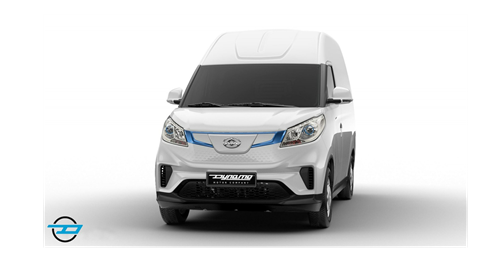 Dynamo Motor Company is planning to launch an all-electric last mile delivery van conversion to help cut city pollution.
The Coventry-based maker of the all-electric Dynamo Taxi conversion has taken a short wheelbase (SWB) e Deliver 3 Maxus van and raised the roof height and lengthened the rear doors to give it the same cargo capacity as a long wheelbase (LWB) van. The conversion also provides 6 m3 capacity, up from the base van's 4.8 m3 capacity with a total payload capacity of 860 kg.
Costs for the conversion service of the Maxus e Deliver 3, which has yet to be launched, is projected to be around £4,995 excluding VAT. The 52.5 kWh version of the e Deliver 3, which is capable of over drive range of 150 miles, reaches 80% charge in 45 minutes on a rapid chargerwith a full charge at home taking around seven hours.
Read more
Brendan O'Toole, founder of Dynamo Motor Company, said: "As a company manufacturing clever, zero emission vehicles, our focus has always been how we can help lower our carbon footprint, which is why we developed the Dynamo Taxi, the world's first all-electric Black Cab.
"However, over the last few years we have seen an increase in inner city pollution and congestion, and we wanted to develop an additional product to our all-electric line-up that would assist in this.
"When we began our research into our next project, we could see a clear demand for last mile delivery vans in cities across the UK. With a focus on energy efficiency at the forefront of our values, we saw a way that we could help ease congestion.
"With one small change to the height of the Maxus e Deliver 3 we were able to dramatically change the way it can be used by delivery drivers, to increase the overall load space by 20% through our own conversion engineering and design."
Brian Bachelor, managing director of E-Van Guru, appointed sales and distribution partner, commented: "Most companies are now ready to accelerate their transition to an all-electric fleet, however, finding a cost-effective electric vehicle that meets their needs can be a challenge, with range, payload and cubic capacity.
"The new Dynamo van conversion with its city range of over 150 miles, 860 kg payload, 6 m3 capacity and full heigh rear doors, is a genuine alternative to the current market-leading diesel alternatives."
Last month Dynamo Motor Company announced its five-year plan to employ a further 275 people to its team, bringing the total to 300 staff, as well as its aim to convert 10,000 vehicles a year by 2026 and add two new mobility solutions in that same period.
"This expansion is predominantly through public funding, mostly through Seedrs, a public fundraising platform. The overall investment target is £2m, however, within the first week of fundraising Dynamo Motor Company reached £1,6m of that investment.