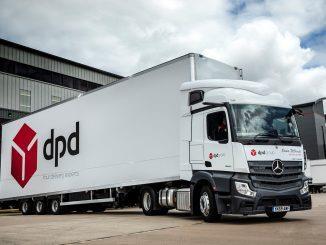 DPD has extended the suspension of its parcel deliveries to Europe as it struggles to cope with the fallout from new post-Brexit customs requirements.
The company suspended its Classic European Road Service to Europe last week after being forced to manually process thousands of parcels that had been returned to sender due to missing customs data. The company estimated at least 20% of all parcels processed by the service had been returned.
DPD has also faced challenges with the UK government's New Computerised Transit System (NCTS), which it said had had failed to "meet the company's needs".
The company has been forced to work around the clock with government and customs officials and the NCTS team to sort out the problems.
Last week it told customers it had hoped to resume the service today (13 January). However in a letter to customers yesterday, DPD revealed it had been forced to extend its suspension due to "additional challenges", adding it would review the situation this Friday.
The letter states: "Further to our update on our Classic European Road Service last week, we've had additional challenges with this service and our international operation teams have been working non-stop to reduce delays on your European deliveries.
"All European parcels sent to us between 30 December and 7 January have now either been shipped to Europe or will be returned to you by Thursday due to missing data.
"These parcels were processed manually which involved many teams and many hours of work, which is not sustainable moving forward.
"We are working closely with the UK government to ensure their New Computerised Transit System (NCTS) meets our needs, however it has had its challenges since 1 January and we are doing everything possible to minimise the impact this is having on our service to Europe.
"Each day we are making significant strides with all our new external systems and processes, however there continue to be delays in validating data with European Customs.
"In view of these circumstances, our service into Europe and the Republic of Ireland will remain paused and we'll provide you with a further update on Friday 15 January."
The company has also asked customers to ensure data is "100% correct" on commencement of the service or face the automatic return of their parcels.
It added: "Rest assured our teams are working 24 hours a day, seven days a week and we're doing everything possible to ensure we can recommence our service into Europe and the Republic of Ireland as soon as possible."
DPD declined to comment further on the statement.
David Jinks, ParcelHero's head of consumer research, warned this week that the situation for parcel delivery firms and their customers could get worse.
He said: "Senders are struggling to come to terms with tariff codes and a host of other new requirements. Both individuals and companies now need to fill in new documentation including detailed item descriptions and the reason for sending their parcel.
"Traders also have to include details such as EORI numbers, proof of origin and tariff codes.
He added: "There's little wonder that we have had reports of increased pressure on turnaround and transit times because of the increased bureaucracy.
"And, just to increase the tension, French customs said they were approaching paperwork with a light touch last week and will be considerably stricter from now on."
RHA policy director Duncan Buchanan said he was surprised that DPD was seeing "only" 20% of parcels being returned to sender via DPD, adding that problems with customs declarations was particularly acute at the Northern Ireland border.
He said: "We are seeing huge, huge problems. The flow is horrendous - any plant or animal products moved by groupage is just not moving at the moment because of the complexity of data required and system problems and this mess is being masked by Covid-19 in Northern Ireland because the lockdown means a lot of stores are not open. The situation is appalling and getting worse."