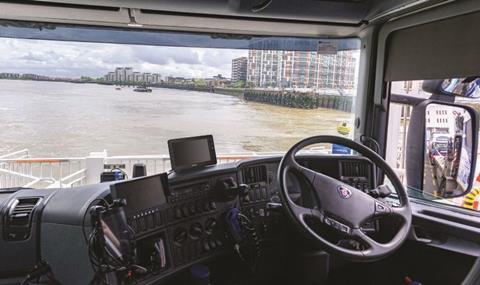 Transport for London's controversial Direct Vision Standard (DVS) is behind a sharp drop in serious accidents, it has claimed.
The scheme, which many fleet operators complained was too hastily implemented, leaving them with compliance issues, requires owners of HGVs weighing more than 12 tonnes to apply for a safety permit that assigns vehicles a star rating based on how much the driver can see directly through their cab windows.
Statistics show serious accidents were down by 64% compared to 2017.
However, road safety experts Brigade Electronics says technology-led safety solutions can further reduce collisions on the capital's roads.
Brigade's UK marketing manager Emily Hardy commented: "This drop in serious injuries is very welcome news and DVS is a meaningful stride in the right direction, but there is room for improvement.
"The next generation of intelligent road safety technology, such as side-detection sensor systems, are designed to minimise accidents.
"These state-of-the-art systems use ultrasonic technology to detect road vehicles, objects and vulnerable road users and predict if a collision is likely to occur.
Read more
"They then instantly alert the driver to potential dangers via a multi-stage in-cab visual and audible warning system."
TfL research shows HGVs accounted for just 3% of the overall miles driven in London from 2018-20, yet were involved in nearly half (41%) of fatal collisions involving people cycling and 19% involving pedestrians.
The DVS standards are set to tighten further in 2024 and the new rules are likely to focus on equipment which reduces false alerts, such as Sidescan Predict, which uses artificial intelligence (AI) to discriminate potential collisions and warn the driver with sufficient time for intervention.
The predictive system minimises false alerts, meaning the system can be activated even when the vehicle is travelling in a straight line, without causing driver irritation or driver overload.
Sidescan Predict constantly gathers object detection data such as the speed, direction, acceleration, and turning rate of a vehicle using ultrasonic sensors. It also gathers information from the cyclist or other vulnerable road users, for example, its speed and distance from the lorry.
This data feeds an algorithm created by Brigade from scratch to calculate the risk of a collision with cyclists and/or pedestrians alongside the vehicle and warns the driver of any risks.
Sidescan Predict can be active all the time, regardless of indicator selection. This means that even if the driver fails to indicate or the indictor is cancelled, the system is active.