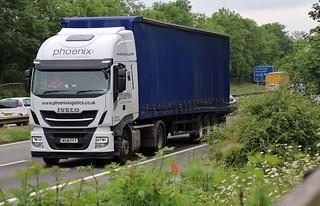 The administrator for a 33-year-old Warwickshire haulier said the business failed due to the cost of living crisis, which had squeezed consumer spending.
Phoenix Worldwide Logistics provided logistics and warehousing services to customers worldwide and traded out of depots in Dunchurch, Rugby and Coventry.
It held a standard international licence authorising 29 HGVs and 29 trailers and it operated warehousing with 11,000 sq ft of storage space
Insolvency practitioners at SFP said the haulier was formed in 1990 and it significantly increased its fleet and turnover between 2019 and 2021 – largely driven by an increase in online consumer spending during the Covid-19 pandemic that supported an improved cashflow position.
But in a statement the administrator added: "However, the company's fortunes turned in 2022 when its turnover significantly reduced, mainly due to the cost-of-living crisis which put a squeeze on consumer spending.
Read more
"The company continued to trade by entering into a time to pay arrangement with HMRC and payment plans with large creditors.
"In March 2023, however, the directors took the decision to cease trading, no longer able to meet the business' debt commitments."
SFP added: "They sought professional guidance and ultimately decided to progress with the administration. As part of the process, SFP is undertaking an orderly winding down of the company's affairs."
David Kemp, SFP joint administrator at SFP said the directors of Phoenix Worldwide Logistics made the right decision in pursuing administration: "Administration presented the best solution for the company, which had sustained a significant amount of debt while experiencing a decline in turnover," he explained.
"While many businesses are showing resilience in the face of the cost-of-living crisis, there are others that are going to be sensitive to shifts in consumer spending. Business owners are encouraged to seek advice at the earliest sign of trouble to keep as many options open to them as possible."