Carillion has become the first operator to install a new video analytics-based cyclist-detection system VT TurnAware from safety equipment firm Vision Techniques.
The new method of detecting cyclists uses a smart camera and integrated CPU that recognises single-direction movement towards the vehicle, warning the driver when a cyclist approaches.
Carillion, which operates vehicles across its services, construction and highways management divisions, has been running trials on its incident support unit and crash-cushion fleet and now plans to extend the technology across all other vehicles in the business.
The operator also requested four-camera live-access recording and lane-safe reversing radar detection to help prevent accidents and collisions with any size of vehicle.
Vision Techniques said the use of video analytics is growing in popularity as it can prevent false alarming, only recognising movement towards the vehicle, ignoring any objects moving in the opposite direction such as road furniture or parked cars.
The company told freightinthecity.com it is currently in the process of getting video analytics recognised by Fors and Clocs as a viable alternative to ultrasonics, which is currently used in many cyclist-detection products.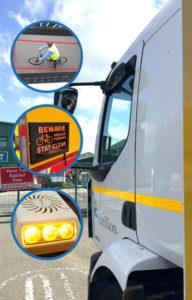 Using software designed to recognise directional change in pixel brightness, motion and distance, a video analytics system can distinguish when an object is approaching the vehicle using a blind-spot-mounted camera.
Vision Techniques technical manager Nigel Armstrong said: "The beauty of the system is that because it visually recognises when a cyclist is approaching, it's also able to filter objects moving the opposite direction, effectively preventing any false alarming."
Martin Saxton, national transport manager for Carillion, has been leading the testing and development of the cyclist system for the company.
He added: "We've been testing cyclist safety systems from a host of safety providers across the UK and we can safely say the TurnAware system was the most effective solution to detect cyclists for our drivers. We believe cyclist safety systems like these will be a standard fitting on vehicles in the future and Carillion's trials of the TurnAware reflect this. We're happy with how the system works and look forward to having it across our entire fleet."
You can watch a video of how this new technology works below.
https://www.youtube.com/watch?v=RG4mDrXSiFU
Vision Techniques will be demonstrating the benefits of VT TurnAware at Freight in the City on 27 October at Alexandra Palace, London. If you are involved with any aspect of urban logistics or planning, make sure to book your free ticket today.