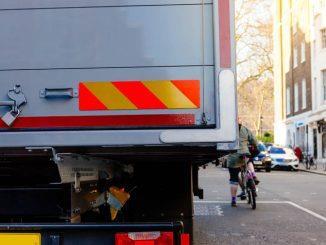 As Transport for London's consultation on proposed changes to the Direct Vision Standard (DVS) enters its fourth week, Brigade Electronics is urging hauliers to get involved and have their say, before the 3 April deadline.
The consultation, launched by Transport for London (TfL) on 15 February, is considering upgrades to the DVS Progressive safe System (PSS), which could require hauliers to make further changes to their trucks.
If the changes are approved they will be implemented in October 2024.
Emily Hardy, Brigade Electronics UK marketing manager, said: "The consultation proposes three major changes to the current DVS requirements.
"These include sensors on rigid vehicles, which must not activate in relation to roadside furniture or stationary vehicles.
"The second significant proposal will require sensors to be fitted on articulated vehicles. It is proposed that these sensor systems must ensure full coverage of the nearside of the tractor unit and semi-trailer.
"Finally, the third change is for a front-detection system or Moving Off Information System (MOIS).
"Should these changes go ahead, then operators will need to fit safety devices that meet TfL's specifications to their vehicles."
Read more
She added: "In the meantime, we are urging fleet operators to get involved and ensure they have a say about the changes by completing TfL's online survey before the deadline of 3 April."
Christina Calderato, TfL's director of transport strategy and policy, is also urging hauliers to take part in the consultation.
She said: "It's crucial that all vehicles using London's roads have safety at the forefront of their design and our world-first Direct Vision Standard has helped to significantly improve lorry safety.
"We will continue to take every possible measure to eradicate deaths and serious injuries from our roads, which is why we are proposing to enhance the safe systems for HGVs. All feedback to our consultation is important to developing the best possible set of requirements and I'd encourage everyone affected to take part."  
 
Proposed changes to the Safe System include: 
  • Updating existing guidance on the use of mirrors and mirror-replacement Camera Monitoring Systems (CMS)  
 
• The requirement for CMS fitted on vehicles to eliminate any remaining blind spots on the passenger side• Sensors ensuring full coverage down the passenger side of all vehicles to detect vulnerable road users. They must not activate in relation to roadside furniture or stationary vehicles

• Moving Off Information Systems (MOIS) fitted to the front of a vehicle to prevent collisions at the frontal blind spot zone when a vehicle moves off from rest  
   
• Audio warnings fitted to all vehicles, including those with left hand drive to ensure all vehicles operating in London have the ability to warn of an intended manoeuvre 
 
TfL's online survey can be accessed here:
https://haveyoursay.tfl.gov.uk/making-londons-lorries-safer/survey_tools/tell-us-your-views
ends