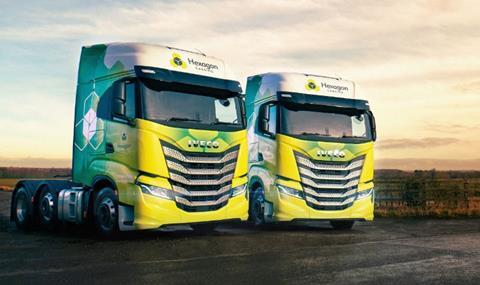 Bridgestone has forged a partnership with contract hire, rental and fleet management provider Hexagon Leasing to supply the company's 3,000-strong fleet with its premium range tyres and a range of bespoke tyre maintenance services.
The deal was sealed after months of negotiations and tyre trials with Bridgestone.
Hexagon said it was "particularly impressed" with the Bridgestone team's attention to detail and consultative approach to the business, developing a range of tailored solutions to meet the needs of their own customers.
Dean Bailey, Hexagon's head of operations, said: "Our brief was a bit like piecing together a big jigsaw, as there are so many things to factor in such as product selection, reporting, maintenance and of course price. Bridgestone turned out to be the perfect fit for us.
"We weren't looking for a tyre supplier, but a strategic partner who could understand our requirements and provide a range of bespoke solutions thereafter. It became very clear early on that Bridgestone were one of few companies who could deliver in this regard."
Under the deal, the fleet will predominantly run on the Duravis R002 which Bridgestone said offers "outstanding wear performance and optimised fuel efficiency".
Read more
Both Hexagon and its customers will also benefit from an agreed tyre pressure policy which will help cut fuel costs, reduce the risk of breakdowns and improve on downtime targets.
Bailey added: "Bridgestone's full reporting suite is a key component behind our partnership too. It allows us to forecast our monthly spend and monthly replacements and also provides in-depth reports about the things we want to see, such as effective tyre husbandry and pressure checks to get the maximum life from each casing."
Neil Collison, Bridgestone's national fleet executive, said: "We are thrilled to be able to work with such a forward-thinking company like Hexagon Leasing and demonstrate our value in a number of ways.
"Hexagon Leasing is undoubtedly one of the most prestigious businesses that we've been fortunate enough to work with and we look forward to adding value in so many different ways.
"We always talk about our journey from a tyre supplier to a mobility solutions provider and this partnership is a wonderful example of this.
"Our premium products play a huge role in our overall package, but being able to reduce cost of ownership through effective tyre maintenance and clear, concise reporting is also important.
"We are delighted to have demonstrated this to the Hexagon Leasing team and we are now looking forward to strengthening our relationship over the coming months and years."