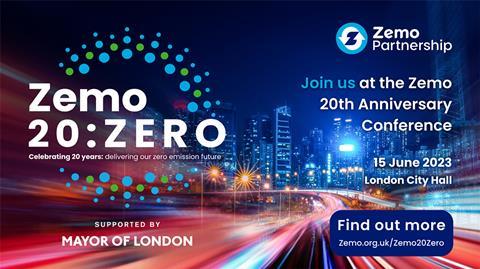 Zemo Partnership's 20th Anniversary Conference and celebration reception takes place on Thursday 15 June at City Hall, London.
Supported by the Mayor of London Sadiq Khan, the event – called Zemo 20:Zero - has also been scheduled to coincide with national Clean Air Day 2023.
It will review progress so far on the 'Road to Zero' in transport and focus on the decarbonisation challenges ahead.
The conference will show the necessity of effective cross-sector & cross-party collaboration; and that the prescriptions for tackling climate change and air quality are inextricably linked.
Zemo 20:Zero aims to celebrate what's been achieved so far, but also to bring together key stakeholders to explore what needs to happen in the next 20 years.
You'll hear from key politicians, industry figures and environmental experts across all sectors and disciplines about their policies to tackle climate change and improve air quality.
It will be hosted by Ginny Buckley, founder and CEO of Electrifying.com; reporter/presenter on ITV's 'Tonight' & 'Men and Motors' and Channel 4's 'Dispatches'.
Key speakers include:
Chris Stark, Climate Change Committee;
Toddington Harper, GRIDSERVE;
Tom Cunnington, Transport for London;
Prof David Cebon, Centre for Sustainable Road Freight;
Andy Salter, Freight Carbon ZeroPeter Harris, UPS;
Kate Jennings, Logistics UK + many more…
Plus contributions from UK & devolved government ministers and mayors.
Find out more and book your ticket today to attend this insightful event.