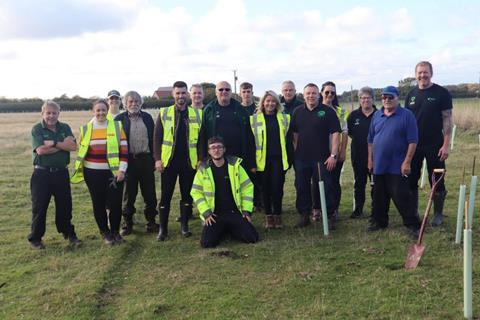 Yodel has planted 1,200 trees in partnership with charity the Green Task Force to provide 'green therapy' for military veterans.
The mass planting event at the charity's headquarters in Hull earlier this week saw Yodel colleagues coming together with veterans from the Green Task Force to plant the trees on a single day.
The trees will provide a source of therapy to veterans and each one planted will offset 0.7 tonnes of CO2 through its lifetime.
The Green Task Force combines environmental schemes with support for military veterans through a range of nature-based therapies.
Yodel said the planting was an initiative developed alongside Rewards.Earth – a charity that provided the trees - for supporting veterans to find new employment having been a recipient of the Armed Forces gold covenant award since 2019.
Sustainability is also a key driver and last year Yodel completed its transition to 100% renewable electricity across its operational sites.
Mike Hancox, Yodel chief executive, said: "Yodel is committed to supporting the veterans that work with us and by working with Rewards.Earth and the Green Task Force, we're able to provide more for those veterans who are still recovering from their experiences.
"This tree-planting initiative also has the double benefit of making a positive contribution to carbon offsetting, supporting our drive to reduce the impact of our operations on the environment which has already seen us make significant progress."