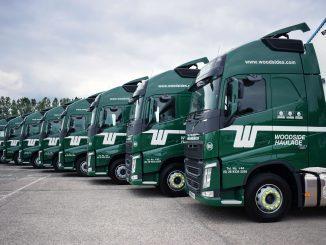 Challenging conditions prompted by the trading arrangements for goods passing into and out of Northern Ireland contributed to Woodside Logistics Group experiencing a 5.3% reduction in pre-tax profits.
Newly released figures for the period ending 31 March 2022 showed that the parent company of businesses including Woodside Haulage, Woodside Distribution and Woodside Tankfreight saw its pre-tax profit fall from £5.5m to £5.2m.
However, revenues increased by 16.5% to £79.7m.
Read more
Turnover generated in the UK was £76.6m and £3.1m was derived from its European operations.
The Ballynure, County Antrim company said its directors were satisfied with the results, which had been achieved in "a challenging operating environment."
In a review of its business, Woodside Logistics Group said: "The key business risk and uncertainties affecting the group are considered to relate to competition from both other local and national haulage contractors, employee retention, the business impact of the Northern Ireland protocol on the movement of goods into, out of, or through Northern Ireland and general economic conditions."
This week, Logistics UK met with the foreign secretary James Cleverly to discuss the problems associated with the movement of trade as a result of the Northern Ireland protocol.