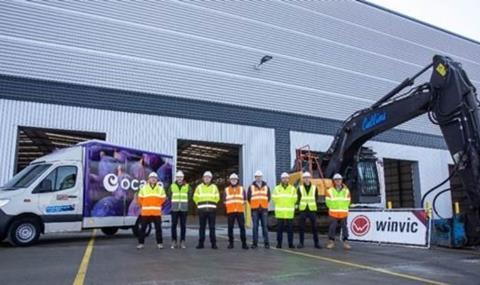 Winvic Construction has been awarded a fit-out contract by repeat client Ocado to design and deliver works in an industrial warehouse that the company previously constructed at Panattoni Park Luton.
The fit-out is being designed using Level 2 building information management (BIM), which uses 3D models to detail every characteristic of a building or engineering project.
Winvic aims to transform the warehouse shell into an EPC-rated 'A' temperature-controlled Customer Fulfilment Centre (CFC).
The speculatively built 345,000 sq ft facility, with a haunch height of 15m, is located adjacent to junction 11A of the M1. The timelapse video of the construction project's progress can be found on Winvic Live.
Winvic will construct four mezzanine floors within the building along with three separate temperature-controlled chambers; one ambient space, one chilled space and one for frozen goods. Specialist installations comprise mechanical, electrical and sprinkler works.
It will also connect to the below ground drainage system and create new entrances and service delivery offices. During the base build works, 13,500 sq ft of offices over two floors, including a goods-in office, were created and fitted out and Winvic will now refit these areas to suit Ocado's needs.
By utilising video sequences and BIM 3D models of each works package, clients like Ocado can engage with the design process more efficiently. It allows the Winvic team to design out clashes, find ways to increase productivity, eliminate health and safety risks, visually train operatives on complexities before they arrive on site, reduce material waste and review progress daily through the construction phase.
Due to the fit out taking place in an existing building, the changes required to the structure have been easily identified and planned for in BIM; for example, reinforcing the foundations in some areas, removing sections of the flooring to accommodate equipment, and connecting services.
While Ocado's robotic material handling equipment has been designed in-house and will be installed by the retailer's specialist engineers, Winvic is working closely with them and has incorporated designs into the models. This is ensuring any modifications to the design, programme or costs can be established and addressed early in the project lifecycle.
James Mandley, Winvic's construction director, said: "Having very recently handed over a similar ambient, chill and frozen temperature-controlled facility with state-of-the-art packing systems to Ocado, this contract win really endorses Winvic's skills, management processes, record of safety and use of BIM.
"In working as one team with Ocado again over recent weeks we've made fantastic design progress, we're now excited to be on site and we look forward to completing the works over the next year.
"With Winvic striving to be at the forefront of developments within the UK BIM Framework and Ocado understanding the value of digital design, for this fit-out scheme we are applying Level 2 BIM.
"The end-to-end benefits are too long to list, but the efficiencies we have already realised in coordinating changes to the existing 345,000 sq ft warehouse and combining Ocado's specialist equipment designs are significant. Simply put, BIM facilitates safer, quicker and more cost-efficient construction, plus it's greener as it allows us to consider the right, low carbon materials and design out waste."
Richard Norton, senior construction project manager at Ocado, commented: "Winvic's track record of temperature-controlled facilities speaks for itself, and I have already built a great relationship with the team. The benefits of utilising BIM Level 2 on this project are very exciting and I'm looking forward to seeing these realised as the project progresses."
Winvic completed a similar 304,000 sq ft temperature-controlled CFC for Ocado at SEGRO Logistics Park Purfleet (SLPP) in May 2021. Other schemes it has delivered for Panattoni include a 69,000 sq ft warehouse also located at Panattoni Park Luton, a 370,000 sq ft facility at Derby Commercial Park, a 522,000 sq ft unit at East Midlands Distribution Centre and a civils and infrastructure project at Midway Park, Northampton.