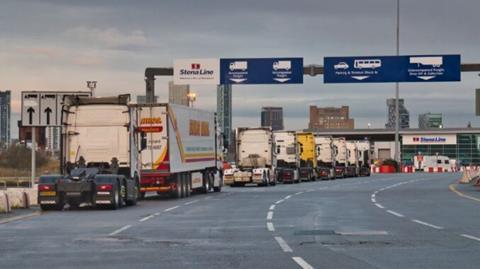 Hauliers trading between GB and Northern Ireland have shown "strong support" for the deal struck between the UK and EU – the Windsor Framework – according to Logistics UK.
The trading agreement, reforming the Protocol, is intended to end checks and bureaucracy on goods destined for NI.
Goods will travel through a 'green lane', with a separate 'red lane' for goods moving onto the EU and these will be subject to normal checks.
Logistics UK said its research found 79% of those surveyed welcomed the certainty the new deal brought; however it added that the sector still had questions about the shape of the final proposals.
"The agreement is welcome news for our members who drive the NI supply chain with GB, Ireland and the rest of Europe," said Nichola Mallon, Logistics UK's head of trade and devolved policy.
"Since the UK left the EU, our members in NI have experienced a period of prolonged uncertainty as the details of how to trade with our closest neighbours have been negotiated.
"When it comes to transporting goods from GB to NI in particular, the process has been protracted and added cost and time to journeys.
"More than 55% of our surveyed members agree that the new deal will reduce the administrative and cost burdens on trading between GB and NI, a reduction recognised by two thirds of those trading between NI and Ireland – all of which is excellent news for businesses in the logistics sector and for the wider NI economy."
However, its research also found 47% of businesses were uncertain or doubtful of the extent to which the agreement would deliver greater affordability for their businesses.
"The Windsor Framework is a positive position from which to strengthen and grow NI's trading relationships with both GB and the EU, which have been in limbo since the UK left the European Union," Mallon added.
"72% of those businesses questioned which are not currently trading with NI agree that the Framework provides more stability and certainty for trade, while 40% of those surveyed confirmed they will be looking to re-establish trading links with NI.
"This reinforces Logistics UK's call for a targeted strategy with GB suppliers to re-establish and strengthen trade with NI."
Northern Ireland Secretary Chris Heaton-Harris has indicated that MPs could get a vote on the Windsor Framework within the next three weeks.