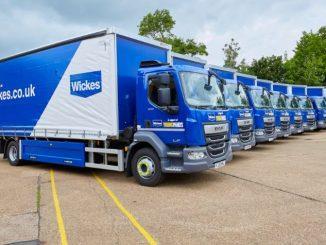 Wincanton has been awarded a new four-year contract by Wickes that will extend and expand its mandate for the home improvement retailer.
The new contract, which spans warehouse and transport operations, will see Wincanton become the sole supply chain partner for Wickes' kitchen and bathroom business in the UK.
Wincanton has worked with Wickes since 2017, expanding its services to cover the management of 50% of Wickes' kitchen and bathroom transport operations. The new contract increases this to 100% of kitchen and bathroom deliveries.
As part of the contract, Wincanton will welcome 342 Wickes colleagues who have been transferred across, with Wincanton now responsible for the management of Wickes' 400,000sq ft kitchen and bathroom distribution centres in Northampton.
Wincanton will also implement a continuous improvement and operational excellence programme to deliver 'significant' savings and support business growth for Wickes.
Read more
A particular focus will be on improving customer experience and using innovation to drive efficiency and sustainability improvements, Wincanton said.
The new Wickes operations will also benefit from Wincanton's People Campus model, which provides Wincanton colleagues with working patterns that suit them, while simultaneously alleviating pressure for customers.
This provides a new template for training and employment in the sector, by providing security through permanent contracts for flexible and part-time roles.
Wincanton chief executive James Wroath said: "Wincanton presented Wickes with a compelling proposition centred on continuous improvement to deliver significant savings and to support its business growth over the next four years and beyond.
"Our work will include new initiatives to improve customer experience, the implementation of innovation to drive efficiency across the supply chain and improvements to increase the sustainability of our shared operations. We are proud of our long-term partnership with Wickes, and we look forward to continuing this great work over the next four years."