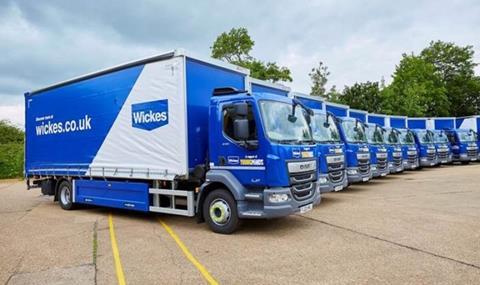 Wickes Building Supplies is using Aquarius IT's recently launched Asset Finance system, which works in tandem with its Asset Maintenance software, to help it track costs and monitor fleet maintenance.
Wickes' fleet of over 250 vehicles is leased from a number of suppliers and whilst each vehicle has full repair and maintenance cover as part of the agreement, the builders merchant is accountable for all non-repair and maintenance costs, such as damage. Historically, these costs have been logged on spreadsheets, providing limited detail.
Mark Wheeler, Wickes' national transport and compliance manager, said: "I can now capture and record these costs digitally, and analyse what particular vehicle parts are getting damaged, and if certain vehicle types are getting more damage than others for example.
"This is important because the majority of our fleet is operated by a third party, and by having this level of detail and analysis, we can challenge the third party as to how they operate the fleet on Wickes behalf and put pressure on them to reduce non-repair and maintenance spend."
Read more
Wheeler said that since embedding asset finance into Wickes IT systems, alongside Asset Maintenance, the team has also introduced weekly cost surgeries with its in-house and 3PL partners.
"At these meetings, we are able to report on the findings from Asset Finance, challenge certain costs and receive credit back from the lease providers," he added.
"Alongside Asset Maintenance, Asset Finance has been a game changer in how we can dynamically manage, track and report on repair and maintenance costs; the flexibility of the system also means we have adapted it to suit our company needs, and we can even manually create new categories, without incurring extra development costs. It has not only helped us operationally on a day-to-day basis, it is also saving us money."
Subir Gupta, Aquarius's national account manager, said: "Asset Finance is a natural extension to Asset Maintenance, and it's interesting to see how Wickes are using it to monitor external and internal repair and maintenance costs.
"It's a different approach, and illustrates the flexibility of the system, as it is generally being used by operators with on-site workshops so that they have real-time control over purchasing."