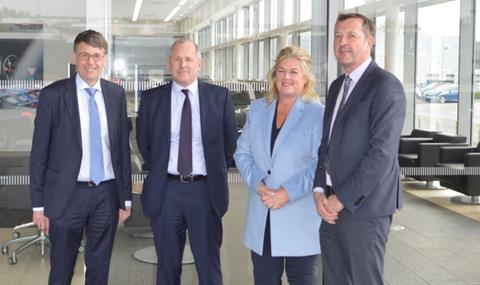 WH Bowker has bought haulier James Nuttall (Transport) and its commercial MOT testing centre, Queensway Commercials, in a move aimed at strengthening its warehouse and distribution business.
The acquisition of the Rochdale-based family firm adds another 48 vehicles to WH Bowker's fleet and brings on board Queensway's DVSA Authorised Testing Facility.
Kieran Goldstone, commercial and marketing manager, told MT that WH Bowker had been looking for the right acquisition opportunity for almost two years. He said James Nuttall (Transport) will be rebranded as Bowker Rochdale.
WH Bowker is also transferring all 70 staff, and will not be making any redundancies, he added.
In its most recent results, to 31 December 2021, James Nuttall (Transport) reported a boost in turnover to £7.2m, up from £6.4m in the previous year. Pre-tax profit also jumped to £1.1m (2020: £614,093).
W H Bowker director, Bill Bowker, said: "James Nuttall (Transport) Limited is a successful family-owned business and shares the same cultural ethos as our own.
"We are extremely confident this exciting venture will strengthen our UK and European warehouse and distribution business providing further opportunities for continued growth."
Read more
Speaking on behalf of the Nuttall family, Jane Nuttall said, "When we initially engaged with Bowker, it became very clear they shared the same values, culture and philosophy as ourselves."
James Nuttall added: "Bowker have an excellent reputation within the industry, renowned for looking after their staff, operating a modern fleet and providing continuous high levels of customer care.
"We look forward to the new opportunities that the acquisition will present to our loyal employees."
Helen Walker added that the sale "is the right decision for the future of the business and all its employees".
WH Bowker is a member of Palletline and the Hazchem Network. It specialises in chemical, pharmaceutical, and food grade logistics.
The acquisition creates a fleet of more than 225 vehicles and 450 trailers together with over 1.2 million sq ft of warehousing.
The company, which has its headquarters in Preston, has 10 depots across the UK.