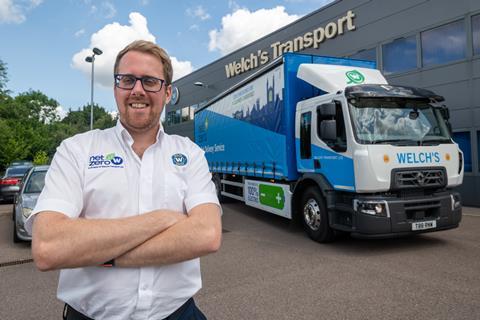 Cambridgeshire haulier Welch's Transport is rolling out a route optimisation system across its fleet, following a trial which saw mileage and emissions cut by 15%.
The family firm, which is headquartered in Duxford, is introducing Optimize's route optimisation software system throughout its 80-vehicle fleet, including its electric vehicles.
The Optimize system uses algorithms to route and schedule fleets more efficiently. Welch's Transport is also using the Optimize technology to predict battery capability and available range to ensure its fleet of EVs are deployed in the most efficient way. 
Welch's Transport, which was established in 1934, is a Palletline and HazChem member and offers a range of services including general haulage, abnormal and fragile loads, warehousing, contract distribution and e-fulfilment.
Chris Welch (pictured), commercial and operations director, said: "We were very excited from the outset about the potential efficiency gains we could make with the use of the Optimize algorithms.
"We had tried a number of different route optimisation software systems previously but had had limited success."
Read more
He added: "One of the most appealing parts of the Optimize algorithms is its subscription model through which you only pay once a vehicle is optimised, meaning you only need to pay when a vehicle is already saving money – a win win."
Colin Ferguson, Optimize chief executive, said: "We are delighted to be partnering with Welch's Transport and working together to help optimise, decarbonise and transform the logistics sector.
"Through the continued use of Optimize, Welch's Transport can expect to reduce costs, increase productivity, and cut emissions. Optimising its new electric vehicles is a clear example of the contribution we can make to the decarbonisation journey of our clients, enabling the transition to a fully zero emission fleet."