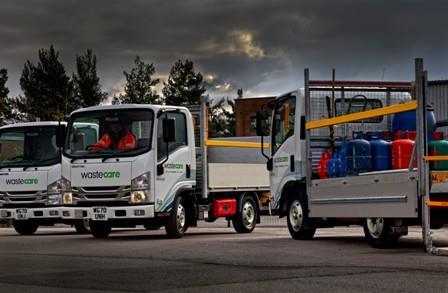 Recycling firm WasteCare has continued its 20-year relationship with Isuzu by adding 10 new 3.5-tonne Grafters to its fleet for the first time.
The N35.125 (E) dropside rigids have been put to work in the company's gas cylinder recycling division where they are repatriating used gas cylinders from local authorities, waste management companies and metal traders, as well as most major bottled gas suppliers.
A long-time operator of Isuzu 7.5-tonners and above, WasteCare chose the smaller vehicle for its performance and reliability:
"When we were looking to replace the incumbent vehicles within the WasteCare gas cylinder recycling operation, we were attracted to the Grafter because of its reputable powertrain, its overall compact size and of course, its legendary payload potential," explained Peter Hunt, WasteCare Group MD.
The Grafter rigids were supplied to WasteCare by Isuzu truck dealer Harry Moore Group in Exeter, who also commissioned the gas bottle carrier bodywork to an agreed specification.