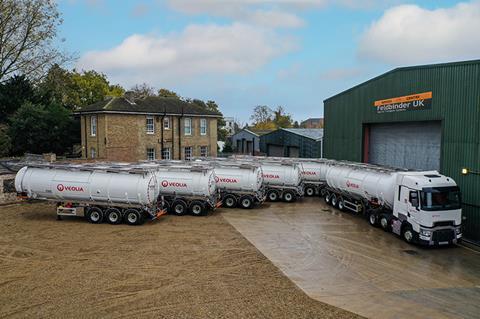 Waste and recycling firm Veolia has awarded a new contract to Feldbinder for the supply of hazardous chemical tankers for its in-house fleet.
The six-tanker order includes four 30,000-litre FFB stainless steel liquid semi-trailers, with special features including overfill cut-off probes and loading level indicators.
It also includes a pair of 37,500-litre FFB stainless steel liquid models with a top-loading function and vent lines.
All tankers are equipped with BPW axles, FFB all-electronic polished stainless steel chassis and fully painted vessels.
Chris Moloney, DGSA, general manager, hazardous logistics at Veolia UK said: "After an extensive evaluation Veolia chose Feldbinder for the supply of product tankers for our in-house fleet. We were very impressed with both the technical support offered and the eventual build quality.
"Veolia takes a long-term view with procurement of such assets and felt that Feldbinder was best placed to deliver on our bespoke needs."
Shaun Hurst, sales manager, UK & Ireland at Feldbinder UK, added: "Following a competitive tender process Feldbinder was delighted to be selected by Veolia to supply new FFB stainless steel ADR liquid tank semi-trailers.
"The results of good collaborative work are clear to see in these impressive new tankers. Our thanks to all involved at Veolia."