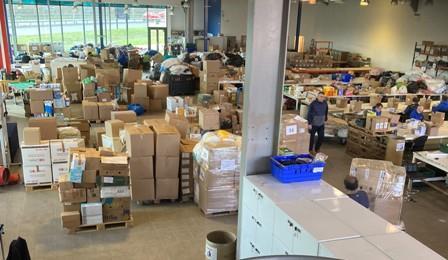 A group of road transport figures led by former MAN CEO Des Evans OBE is appealing for support from the industry to ship humanitarian relief aid from a holding centre in Swindon to Ukrainian refugees in Poland.
"I have managed to obtain very generous support from Glyn Davies [Culina non-executive director], Charlie Faulk of Goldstar and Steve Miller of Dawsongroup who have donated funds that will enable the first load of aid to be collected and delivered to Poland on Monday," said Evans. "Mike Bowden is the lead trustee at the charity who is working with me to organise onward distribution."
Thousands of donations have already been received from the local Ukrainian and Polish communities and are being held at the Phoenix Enterprise Charity premises in Swindon.
"The overwhelming response means that additional sorting and storage space is required," continued Evans. "In addition onward transport will cost £4,000 per journey and the charity does not have such funds.
"We need to raise a minimum of £100,000 to fund the next 20 to 25 loads.
"If Captain Tom can raise £30m by walking 100 yards around his garden then surely the UK transport industry can raise £100,000 to enable this humanitarian aid to be delivered over the next eight to 10 weeks."
To offer your support email Evans at desmondk.evans@gmail.com