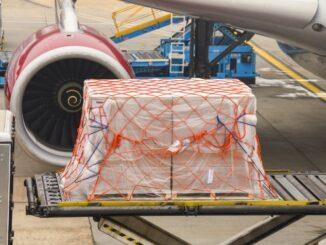 Worldwide Flight Services (WFS) said it had averted strike action among truckers and cargo handlers at Heathrow Airport after it offered them a pay deal worth 7.5%.
The Unite union had warned "freight chaos" was on the cards after it claimed the company had imposed a pay freeze at a time when inflation was soaring.
However, WFS said its 200 employees had now accepted its revised pay offer and that industrial action had now been suspended.
Unite said the agreed deal also included a one-off payment of £1,000.
Read more
Paul Carmody, WFS UK MD, said: "Having worked hard to find a fair and reasonable solution which protects our customers and avoids any disruption to their businesses, we are pleased that our employees have accepted our revised pay offer and we have been able to avert the threat of strike action at our Heathrow operations.
"We pride ourselves on good employee relations and hope this agreement will enable us to move forward positively and focus on the important task of supporting our customers' continued recovery after all of the disruption to the aviation industry as a consequence of the pandemic."
Unite general secretary Sharon Graham said: "This pay victory for our WFS members is another reminder that Unite is determined to get our members across the UK pay awards that help combat rocketing living costs.
"Our members stood together, ready to take industrial action to win improved pay and their solidarity has paid off."