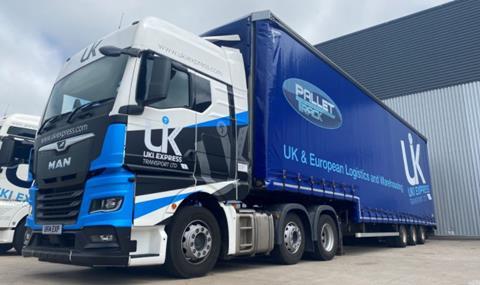 Skelmersdale-based UKI Express Transport has joined Pallet-Track, marking its first membership of a pallet network.
The FORS accredited company, which specialises in the movement of heavy industrial equipment for the plant hire sector, will cover part of the WA postcode area.
Until joining Pallet-Track this month, UKI was a third-party inputter into all of the UK's pallet networks. It said its decision to join Pallet-Track was influenced by its rapid expansion over the past five years, with its warehouse capacity growing from 45,000 to 300,000 sq ft in the period.
During the pandemic it has been operating at full capacity and also opened new facilities in Teesside in May this year, after seeing soaring demand from supermarkets and the NHS for its BRC AA-accredited facilities last year.
UKI MD Peter Gummerson, said: "We have worked with every single pallet network over the years as a third-party inputter, but we always said that if we got the opportunity to work with one, it would always be Pallet-Track."
Read more
He added: "Pallet-Track shares a lot of our business values – it prides itself on zero errors and never losing consignments.
"As far as I am concerned, it is the best in the industry when it comes to service levels and its support systems for shareholder members are robust and well managed. It is also very competitively priced."
UKI Express Transport commercial director Geoff Birch added that the business's diverse offering and 'can-do' approach made it an attractive proposition to customers and Pallet-Track.
"Not many businesses can offer the different services that we can provide – from industrial plant hire work to the storage and distribution of Liverpool football shirts and memorabilia – there are never two customers or days the same," he said.
Pallet-Track chief executive Caroline Green said: "It's part of our mission to be the best network and receiving positive feedback from existing and new members is always the biggest endorsement of what we are trying to achieve.
"Businesses like UKI Express are putting their trust, and that of their hard-won customers, in our network, which is why we are so passionate about being the best."