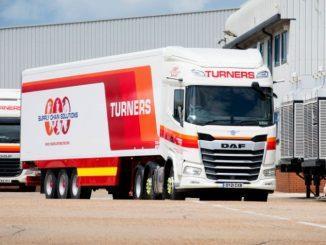 Norfolk-based Lynn Star Distribution & Logisics has been acquired by Turners (Soham), as part of its strategy for growth.
Lynn Star was acquired by Royston and Penelope Dowen in 1988 before moving to its current base in Kings Lynn 25 years later.
The company has a fleet of over 40 vehicles providing general haulage, full loads, groupage, warehousing, pallet distribution and container services.
Both businesses will continue to operate independently under the Turners Group brand and service for all customers will continue without disruption.
Turners MD Paul Day said: We were delighted to be given the opportunity to acquire Lynn Star. It is a well-run, family business with a strong team offering good service to a loyal customer base. The acquisition will increase our presence in the pallet network market and generally build our ambient distribution operations.
Read more
"I look forward to working with Sherridan Dowen, who will remain as managing director, and all the people at Lynn Star to ensure the continued success of the company."
Lynn Star MD Sherridan Dowen added: "We are delighted to be part of the Turners group. I am looking forward to a really exciting future, with continued growth and success for all parties. This is a fantastic opportunity for Lynn Star and our clients who will benefit from a strong collaboration and additional services."
Camlee Group, a specialist corporate finance boutique based in Manchester, acted as lead advisor on the transaction on behalf of Lynn Star (Sam Oldfield and Chris Murthi) along with Hegarty Solicitors (Andrew Heeler) providing specialist legal advice throughout the process.
Cameron Varley, Partner at Camlee Group, said: "It's been a pleasure to see this transaction through to the end and believe that Turners and Lynn Star working together will accelerate its growth into a formidable force in the logistics industry. We wish the Dowen family all the best in their future endeavours."
Jonathan Lant, chief financial officer at Turners led financial due diligence along with Alan Blake at Streets Chartered Accountants. They were accompanied by Lucy Folley and Natasha Bhandari from Tees Law for the buy-side legal advice and due diligence.