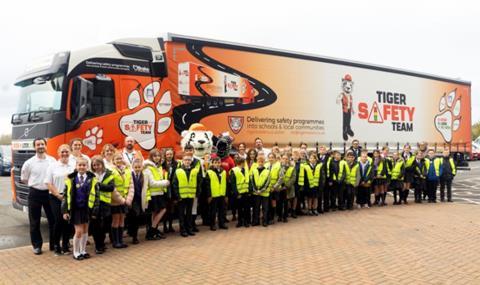 Tiger Trailers has launched its 'STOP LOOK BE SEEN' school programme.
The programme is being promoted on the project's liveried curtainsider Volvo truck and mascot during Road Safety Week 2021.
The launch is part of Tiger Trailer's three-year donor relationship with the charity Brake which runs Road Safety Week.
The programme will deliver road safety messages to Key Stage 2 children at schools in the firm's home county of Cheshire, emphasising safe behaviour around HGVs and other large vehicles such as buses, tractors and bin lorries, particularly with 10-12 year olds who will often be making unaccompanied journeys for the first time when they begin attending secondary school.
The team's visits are free and cover recognising hazards, behaviour change techniques, National Curriculum outcomes, PHSE health, wellbeing and relationships, and the Green Cross Code.
During the launch around forty children and staff from St. Joseph's Catholic Primary School in Winsford were given a safety demonstration presented by Tiger's own driver, teaching them about HGV blind spots, noise, turning circles and other dangers, and a number of children had the opportunity to sit in the cab.
The Tiger Safety Team-wrapped truck, supplied by Thomas Hardie Commercials, is the same specification as the plain unit used for the safety demonstration in Tiger Trailers' showroom - a Volvo FH 500 6x2 push axle tractor with a Globetrotter cab and the latest I-See topography software.
The truck will visit schools with Tiger Safety Team's branded curtainsider trailer which features its mascot, Tiger Ted, on the livery. The trailer's curtains were provided by WJ Leech & Sons.
Tiger Safety Team's founder, Alison Cartwright, the company's CSR manager, said: "Child safety and giving back to the community have both been close to my heart over the years and I am delighted that Tiger Trailers is able to play a part in keeping young people safe at a milestone time in their lives, thanks to the support we have received from Volvo Trucks UK, Brake, Thomas Hardie and other organisations, plus the enthusiastic members of TeamTiger's factory and office teams."
She added: "We are excited about 2022 in which we will be visiting schools regularly to deliver our 'STOP LOOK BE SEEN' programme, and it will also be wonderful to see the Tiger Safety Team introduce other initiatives as time goes on, from factory safety education to projects focussed on cyclists, HGV drivers and others."
The Tiger Safety Team will also use opportunities to promote the logistics industry and manufacturing careers to women, supported by HGV driver Heidi Chapman, part of the Veterans into Logistics' team, and also Emma Elston CEO of UK Container Maintenance and a previous winner of Business Woman of the Year.