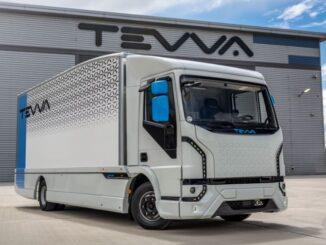 Tevva has signed a deal to merge with US electric vehicle designer and assembler ElectraMeccanica, in a move which will enable the UK electric truck manufacturer to significantly scale its production and target the US market.
Announcing the agreement the two companies said the merged enterprise would initially focus on the UK market, followed by Europe and the US, with the aim of becoming "the market leader" in zero emission commercial vehicles.
The deal will see Tevva's existing 110,000sq ft EV manufacturing facility in Tilbury, complemented by ElectraMeccanica's recently-commissioned 235,000sq ft facility in Mesa, Arizona, enabling the merged company to scale its production to serve the UK, European and US markets.
The merger, which is expected to close in Q4 2023, will also accelerate Tevva's entrance into the US market and deliver approximately $5m of annual cost savings by the year-end of 2024.
Tevva will also receive a $6m credit facility from ElectraMeccanica as part of the agreement to Tevva to help accelerate delivery of Tevva commercial vehicles to fleet customers.
The merged company, which will operate as Tevva Inc, is expected to be domiciled in Delaware in the US, trading on Nasdaq.
Once the transaction is completed, ElectraMeccanica shareholders will own 23.5% and Tevva shareholders will own 76.5% of the merged company, which is expected to have a cash balance of approximately $70m – $80m , with debt of around $26m.
David Roberts, current director of Tevva, who is expected to become the executive chairman of the merged company, said: "Since Tevva's founding more than ten years ago, we have focused our engineering and product development capabilities on developing a portfolio of zero-emission commercial vehicles that have generated significant customer interest.
"Our vehicles have undertaken more than 300,000 miles of testing and operating experience in real-world conditions by demanding fleet operators.
Read more
"We are excited to merge with ElectraMeccanica and accelerate the growth of the combined company.
"Throughout the process, we have been impressed with ElectraMeccanica's management team and strongly believe that ElectraMeccanica's complementary assets, skills and capital will further enhance our advantages in this large and rapidly growing market."
Susan Docherty, chief executive officer of ElectraMeccanica, who is to become chief executive of the merged entity, added: "We are incredibly excited to partner with Tevva given their unique engineering expertise in an essential segment of a large and growing market.
"We believe this is the right time and Tevva is the right partner with which to pivot from consumer vehicles to commercial vehicles and respond to commercial fleet customer demand for superior, reliable and cost-efficient trucks.
"The complementary operations of the two companies and our similar values and mission give me complete confidence we can jointly create significant shareholder value.
"Tevva is extremely well positioned in the UK and European market and our world-class manufacturing facilities, combined experienced senior executive team and balance sheet will help take our combined company to the next level."
Steven Sanders, chairman of the ElectraMeccanica board of directors, added: "By partnering with Tevva, we are providing our shareholders with a unique opportunity to participate in the accelerated and technology-driven growth prospects of the combined company in ways that also logically extend and leverage ElectraMeccanica's existing assets and strengths."
The merged company will consist of nine directors - five from Tevva and four from ElectraMeccanica, with Docherty becoming chief executive.
Docherty joined ElectraMeccanica in December 2022 as chief executive and has over 40 years of senior leadership experience, including 30 years of international automotive experience at General Motors where she held a number of senior roles including president and MD of Chevrolet/Cadillac Europe.
David Roberts, board director at Tevva for three years, will become executive chairman. He has previously held executive positions with Chrysler and Aston Martin Lagonda.
For more stories tracking the industry journey to decarbonisation see our new Freight Carbon Zero website.