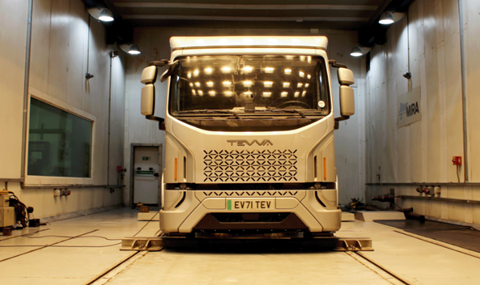 British electric and hydrogen truck manufacturer Tevva has opened a base at Mira Technology Park in Nuneaton so that it can easily access Horiba Mira's specialist engineering and testing capabilities including extensive crash testing, climatic, dynamics and aerodynamic resources.
Tevva said that having an office on the campus will also give it more opportunity to partner with engineers and researchers working at the cutting edge of electric vehicle technology and attract more talent to its rapidly growing team.
Tevva's trucks have already undergone extensive trials at the Mira Technology Park, including software and climatic testing, as the company gears up for series production of its truck which is due to begin shortly at its main UK base Tevva London.
Ken Scott, Tevva chief engineer, said that the move is an opportunity for the company to develop closer ties with organisations in the same sector.
Read more
He added: "Mira Technology Park is second to none when it comes to automotive engineering and testing. Our trucks, both now and in the future, will undergo development there. Having a physical presence there will help us develop our technologies more rapidly. It also means lower overall costs for our research and development.
"This move clearly demonstrates that Tevva is growing at a rate of knots."
Tim Nathan, MD of Mira Technology Park, said the campus, home to over 40 world-leading businesses from the global automotive industry, is primed for developing world-class vehicles.
He added: "We're delighted to be supporting Tevva with the development of its pioneering electric truck, providing engineering and test consultancy from concept design through to final validation. The unique combination of engineering expertise, advanced testing facilities and prime location of Mira Technology Park in the heart of the UK automotive industry, ensures Tevva can develop and validate their vehicles in one place."