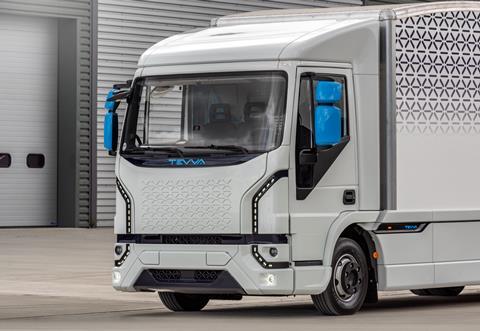 Operators choosing Tevva's 7.5-tonne battery-electric truck can now get up to £16,000 off the purchase price after the manufacturer secured plug-in truck grant (PITrG) eligibility.
To get the government grant, Tevva had to demonstrate that its vehicle had a CO2 emissions figure of at least 50% less than a conventional equivalent carrying the same capacity and could travel at least 60 miles without any tailpipe emissions.
Tevva's truck is the only British manufacturer to qualify for the PITrG and becomes only the third eligible truck to be listed on the government website.
The grant pays for 20% of the purchase price up to a maximum of £16,000.
Read more
Tevva founder and chief Asher Bennett said: "We know first-hand that demand for electric trucks is growing at speed, as we have been inundated with requests for our 7.5t battery-electric truck since going into full production last month.
"Now we are able to offer UK organisations a noticeable discount, thanks to the government grant, which will surely make zero emission trucking even more appealing to fleets."
In January, Tevva secured European Community Whole Vehicle Type Approval for its 7.5-tonne truck.
For more stories tracking the industry journey to decarbonisation see our new Freight Carbon Zero website.