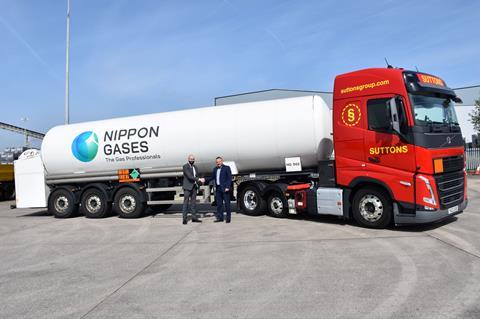 Suttons Tankers have been awarded a further three years on its Nippon Gases contract, beginning in September 2023.
The bulk logistics provider has been dealing with Nippon Gases for over 20 years, transporting bulk CO2 across the UK to major blue-chip customers.
Suttons pointed to the company's "strong focus" on customer service, alongside peak period flexibility, a wide network of depots and a cross-trained fleet of drivers, as key components in its successful extension of the contract.
As part of the three-year deal, Suttons will invest £3.5m to bring 23 new tankers onto the contract, which the company said will deliver improved fuel efficiency, less downtime and better driver comfort.
Michael Cundy (pictured left), Suttons Tankers MD, said: "I am delighted that we have been given the opportunity to further strengthen our partnership with Nippon Gases.
Read more
"The renewal is very much a reflection of the hard work that goes into the operations from our pool of drivers and contract team."
Carl Woollins (pictured right), Nippon Gases UK and Ireland MD, added: "Working with Suttons brings stability to our business, with reliable transport, ensuring deliveries are made on time and in full. Our business can't fulfil our clients' requirements without an exceptional transport service."