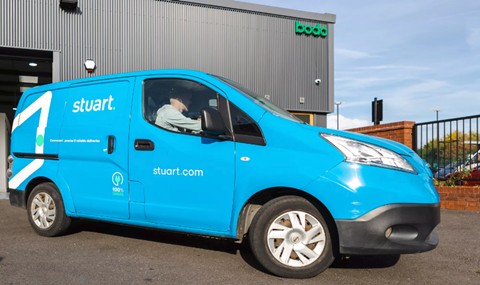 Last mile delivery specialist Stuart said it could now provide a range of fast and convenient delivery options for partner brands after teaming up with logistics platform bodo.
The collaboration means retailers can increase their delivery fulfilment levels and provide an efficient end-to-end process for their customers.
Stuart said it had experienced a 255% volume increase in the three months to December 2022 in bodo deliveries and volumes in the first week of January have been almost double that for the whole of October.
John Gillan, Stuart general manager, said: "Sustainability remains at the centre of all our decision making at Stuart and we're looking forward to continuing to drive this forward with bodo to provide a bespoke delivery offering to end customers."
Jack Green, bodo co-founder, said: "As we strive to set new industry standards for sustainable on-demand delivery, we need operational partners who can constantly innovate in the space.
"As market leaders in both on-demand and same-day delivery, this partnership will allow us to better service brands using bodo, whilst giving their customers rapid delivery that they can feel good about."