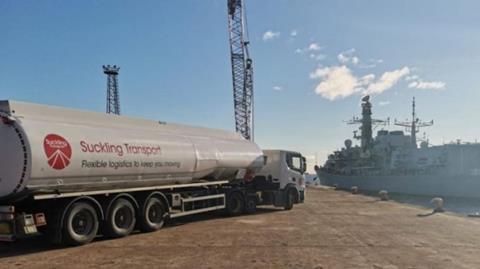 The Unite union said it had secured an "inflation-busting" pay deal for Suckling Transport tanker drivers in Grangemouth.
Strike action among the dozen truckers, due to commence on 27 March, has now been cancelled after the union said they were set to receive a deal worth over £11,000 a year.
Unite said it was equivalent to a 26% uplift and would take the annual salaries of staff from at least £43,315 to £54,579.
The deal also included improved overtime rates, bonuses, callout payments and allowances.
Unite general secretary Sharon Graham said: "Unite has delivered this fantastic inflation-busting pay deal for JW Suckling Transport tanker drivers, negotiating a pay deal worth over £11,000 a year more for our members.
"Unite does what it says on the tin, we enhance our members' jobs, terms and conditions. The deal secured at JW Suckling Transport is another great example of Unite winning for our members."
Unite had previously claimed that industrial action would have affected Jet garages across Scotland.
No-one from Suckling responded to our calls for a comment.