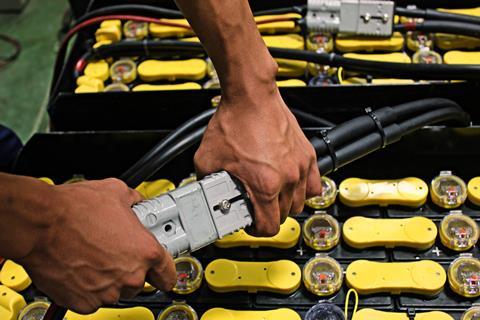 UK electric vehicle production is under threat unless the government renegotiates its Brexit trade deal with the EU over the origin of batteries, according to manufacturers.
Automaker Stellantis said its UK operations will have to close unless the rules on where parts are sourced from are not changed.
Currently, 40% of an electric vehicle should originate in the UK or EU to qualify for trade without tariffs.
This will rise to 45% from 2024, while for battery packs the threshold increases to 60%.
This increases even further from 2027, with 70% of the value of a battery pack having to come from the UK or EU.
In a submission to a House of Commons inquiry, Stellantis said there would not be sufficient battery production in the UK or Europe to meet the Trade and Cooperation Agreement (TCA) and, as a result, it would be at "a major competitive disadvantage".
"If we do not produce in the UK or in Europe, we will be faced with 10% import duties which will make domestic production uncompetitive against Asian players," the manufacturer said.
"If the cost of EV manufacturing in the UK becomes uncompetitive and unsustainable operations will close."
The SMMT said the TCA provided the basis for tariff-free trade and helped unlock investment.
However, SMMT chief executive Mike Hawes also said: "The rules of origin for batteries pose a significant challenge to manufacturers on both sides of the Channel, with the prospect of tariffs and price increases which discourage consumers from buying the very vehicles needed to achieve climate change goals.
"At a time when every country is accelerating their transition to zero emission transport, and global competitors are offering billions to attract investment in their industries, a pragmatic solution must be found quickly.
"We urgently need an industrial strategy that creates attractive investment conditions and positions the UK as one of the best places in the world for advanced automotive manufacturing."