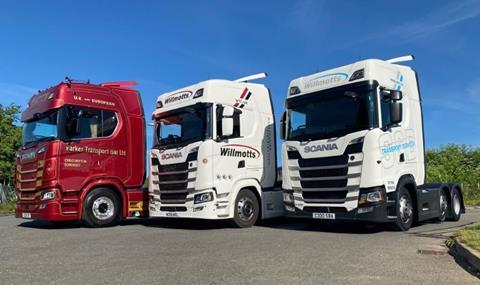 Stotts Group, which owns Willmotts Transport and S&B Transport Services, has boosted its presence in the South West of England with the acquisition of Somerset-based Parker Transport (SW).
The acquisition adds two new sites to its existing eight locations and expands its total fleet to around 160 trucks and 170 trailers.
Parker Transport (South West), which has an operating licence for 40 trucks and 48 trailers, has a depot at Chilcompton and 50,000sq ft of warehousing at Midsomer Norton, near Radstock in Somerset. The family firm, which was launched 40 years ago, specialises in transport, distribution and warehousing
Shepton Mallet-based Willmotts Transport, which operates 97 trucks and 115 trailers, supplies storage and distribution services to companies ranging from SMEs to blue-chip companies and specialises in the FMCG sector.
S&B Transport Services is also based in Shepton Mallet. It has operating licences for 24 trucks and 16 trailers and specialises in bulk aggregate movements and biomass energy supplies via walking floor trailers.
Andy Stott, owner and director of Stotts Group, said: "The Parker Transport business has been built on solid foundations over a number of decades and is a successful and high achieving logistics company which will play a key role in the overall development of the Group as we continue our significant growth.
"Willmotts Transport has a large distribution warehouse on the same industrial estate in Midsomer Norton, so strategically this purchase consolidates our presence in the area.
"There are many similarities between our companies, and we will be keen to maintain the first-class standards already in place and to foster synergies and efficiencies between both businesses."
Parker Transport director Kelvin Parker, said it will be "business as usual" following the purchase, with the company retaining its name.
He said: "After many years as a family business we feel that the time is right to realise the opportunities which becoming part of a bigger group will bring.
"Stotts Group shares the same ethos as our company and will add resources and dimensions to further develop logistics services to benefit customers of both businesses.
"We will be maintaining the Parker Transport brand and we are delighted that the existing team will continue to lead the Parker Transport business within the Group.
"There will be no hallmark changes to the customer base or day to day activities. It will be very much business as usual for all the Parker Transport team and its customers."