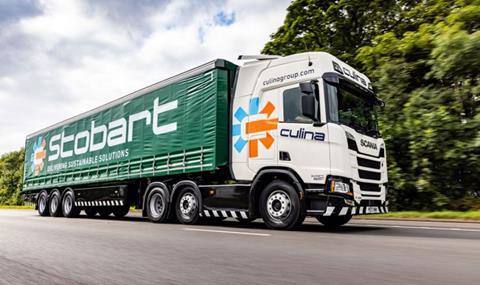 Stobart has introduced double deck trailers on its contract with the Co-op to help the retailer cut its fuel consumption and its carbon footprint.
The initiative is one of a number of projects the haulier has developed in partnership with the Co-op, as part of a major sustainability drive.
The projects include a carbon reporting process for inbound RDC deliveries, which measured the environmental impact, the introduction of Don-Bur's Wedge double deck trailers as a way to cut carbon emissions whilst carrying more freight, and a review of one way backhaul trunking activity which used Stobart's nationwide network to improve the efficiency of the Co-op fleet.
Stobart, which was formerly branded Eddie Stobart until its acquisition by Culina in July 2021, said this week that a further pipeline of projects are in progress.
These include a long-term initiative to review any further opportunities to transfer freight shipment from road to rail, along with an alternative fuel trial and a move to real time carbon emissions reporting.
Read more
So impressed was the Co-op with Stobart's green initiatives that it awarded the haulier the Co-op Environmental and Sustainability Warriors Award 2021, which is open to all the retailer's suppliers.
David Pickering, chief executive of Stobart, said: "These important initiatives form part of the Stobart aim to be the most sustainable UK LSP.
"Through our collaboration with Co-op, we are delighted to be recognised for our commitment to delivering sustainable initiatives that positively impact the environment.
"The ongoing roadmap that we have developed, in collaboration with Co-op, forms a key cornerstone in a cultural change in our ways of working. We are committed to driving continuous improvement and sharing of best practice amongst all of our partners."