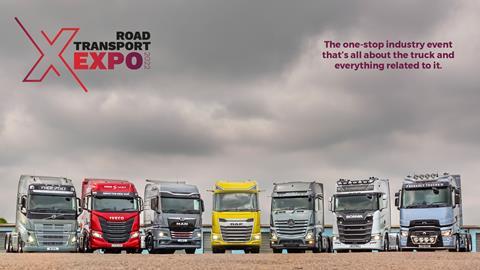 There's still time to get your free tickets to this summer's exciting new trade show – the Road Transport Expo (RTX) – brought to you by the publisher of Motor Transport.
Taking place from 30 June to 2 July at NAEC Stoneleigh, Warwickshire, this three-day event brings together everything you need for your HGV fleet in one vast venue.
From specialist exhibition zones and a Ride & Drive experience, through to a business conference, product talks and demonstrations – you'll find it at RTX.
MT editor Steve Hobson will be chairing a series of informative seminar sessions on our Knowledge Zone stage during the first two days of the event, which tackle key topics such as fleet compliance, urban logistics, freight crime, driver recruitment, urban logistics and industry decarbonisation.
Whilst on our Business & Technology stage, you'll hear from leading manufacturers and compliance experts on new technology, the transition to electric vehicles, emissions standards, legal know-how and much, much more.
Take a look through the digital showguide to help you plan your day and get a glimpse of the action taking place and the wide range of exhibitors taking part in the event.
You can book your free ticket to attend easily online.
We look forward to seeing you there!