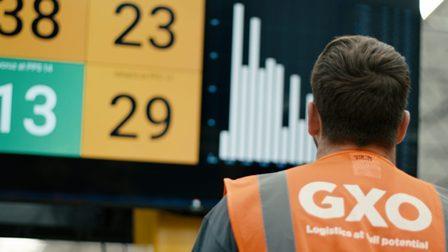 In August 2021 XPO completed the spin off of its Logistics division to create a new, separate company GXO, leaving the former Transport division to trade on as XPO.
While there were good operational reasons for the split, Brad Jacobs, chairman and CEO of XPO Logistics, made no secret of the fact that a major driver was to increase shareholder value. Listed on the New York stock exchange, XPO shares were valued as low as $52 in November before the split was announced, rising to a high of $90 after the spin off was completed. GXO shares started trading at $54 and quickly rose to $87, a clear vindication of the reasoning that investors failed to understand the full value of the combined company.
Announcing the planned spin off, Jacobs said: "By uncoupling our transportation and logistics segments, we intend to create two high-performing, pure-play companies to serve the best interests of all our stakeholders. Both businesses will have greater flexibility to tailor strategic decision-making and capital allocations to their end-markets, with the benefit of strong positioning as customer-focused innovators. We currently believe that this spin-off is the most effective way to unlock significant value for our customers, employees and shareholders."
XPO $ (£) million revenue in Europe pre-spin off for the three months ended March 31
Year 2021 2020
Logistics 1,197 (867) 865 (627)
The Kuehne + Nagel acquisition, which included the majority of the company's UK and Ireland business, contributed approximately 13.6 percentage points to Europe's revenue growth of 38.4%
Freight brokerage and truckload 494 (358) 437 (317)
Less-than-truckload 245 (178) 225 (163)
Total Transport 739 (536) 662 (480)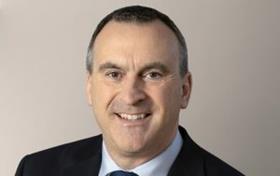 Gavin Williams, pictured, is MD of the UK and Ireland for GXO Logistics and he believes that there are strong fundamental reasons why the two companies are now more highly valued by investors.
"The rationale of the spin off is that the business has been held back from a shareholder perspective," he says. "It is run across multiple geographies and multiple services and one of the advantages of carving out the business is that we are now focusing purely on contract logistics.
"That means I can run the UK business with a management team totally dedicated to contract logistics initiatives. My cap-ex requirements are now focused on automation and technology investment, in addition to fleet and R&M. We have always been big investors but now I don't have to compete for it and I can target my investment on areas fueling my growth such as returns and e-comm.
"That means we are a lot leaner and focused on the verticals and services we offer. The management team is still here but is now more dedicated to our services rather being than across transportation as well as contract logistics. XPO is a separate company now, but it is a great business and this has enabled the two companies to spread our wings and grow in our target sectors."
In the UK GXO is much bigger than XPO, with 240 sites and approximately 31,000 employees. Despite its focus on contract logistics Williams says it still runs a big fleet of vehicles.
"Within our contracts for grocers and retailers we also carry out the transport execution," he says. "We also completed the Kuehne+Nagel acquisition on 1 January which included a significant fleet in both primary and secondary networks. XPO will do less-than-truckload and pan-European movements which we don't do – we are domiciled in UK and Ireland.
Williams says that while it in the short term will "be business as usual for customers as none of the business leaders have changed" he believes they will soon see improvements and expansion in the services GXO offers. "I hope what they will feel in the medium term is that we are a business that is much more focused on continuous improvement and technology because that is what this business is about," he says. "We want to grow our market share with existing and new customers by investing in technology."
He says 15% of GXO sites are shared user and the "last couple of years a real pipeline of new business in those shared user sites across frozen and ambient".
"The tail wind created with Brexit started that but it has carried on and we see that as a good growth area," Williams goes on. "We see customers coming into shared user space and then go on to need dedicated bigger solutions so it is a stepping stone to dedicated facilities."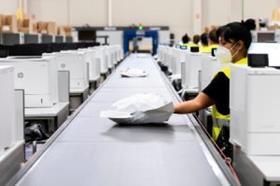 The rise and rise of online shopping means that GXO sees a huge opportunity in e-commerce - though not in the ultra-competitive final mile home delivery.
"We operate the fulfilment centres – we don't deliver the parcels," says Williams. "We help our customers with carrier management though some of our large e-comm customers have their own dedicated relationships with carriers.
"We do everything from demand planning through to fulfilment centre and returns management. Over the last couple of years we have seen a step change in the requirement for e-comm as consumers want more home delivery and some of our customers needed additional warehouse space. Other customers have outgrown their existing footprint and require new technology to improve their fulfilment centre processes.
"Being the number one in e-comm we are also the number one in returns and that is a good position to be in."
Investing in new technology will be a key area for GXO, though Williams says this "doesn't have to be automation".
"The affordability and range of technology is becoming far greater," he says. "The business case is also becoming easier because it is more modular and slightly cheaper and also the cost of labour is increasing, so as you pour more and more volume into a higher cost base the business case for technology is more obvious.
"Technology handles around 30% of our throughput and I can see that at least doubling over the next five years. We will always need people but it is getting harder to get them."
While there are major concerns about the approaching peaks in volume, Williams says there are already been "lots of peaks" since the Covid pandemic began.
"We delivered a massive peak in June, July and August last year so we have been in peak for the best part of 18 months," he says. "Black Friday this year will be a bigger challenge because of labour availability and that is where we work with our customers to try and flatten out the volume and make sure we get labour in early. We are working with customers on their forecasts and making sure GXO is a great place to work. Excelling at the basics of an engagement culture is now more important than ever. We strive to be the employer of choice in all of the markets where we operate."
Williams is confident however that long term the logistics sector will resolve its labour shortages. GXO is also using more technology as it grows its workforce and continues to expand its use of advanced automation that boosts productivity, enhance safety and improves the employee experience. GXO's throughput for automated sites is up more than 40% year-over-year.
"The one thing our industry is good at is fixing problems but we need more time to fix this one," he says. "I like apprenticeships and we are developing our own driver academies in the UK. We are going through the gears to increase throughput and we are big supporters of bringing new employees into the driver market because that's what will solve the problem in the medium term.
"It is also about retaining those resources and that is about investment in fleet and facilities at point of delivery so there are lots of different elements to fixing this problem. I have a lot of confidence in our business and the industry that we will fix it."
While Williams will not reveal GXO's UK turnover he says his "new business pipeline is fantastic for the next year or two".
"Logistics has become more complicated in the last couple of years with Brexit, pandemic and the gear change into e-comm from retail," he says. "Customers are outsourcing more than they ever have and we have new customers coming to us for e-comm and technology services. GXO is talking about 18% revenue growth and I think we will see good growth from our part of the business.
"There is no going back from the consumers' perspective of how they shop – e-comm is now a matured channel of choice. The biggest share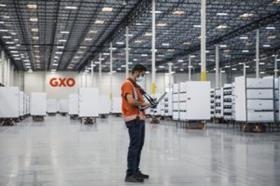 of our business is in retail and e-comm – retail is still good business and is just having to change its shape in terms of delivery frequency or channel. A lot of our fulfilment centres are omni-channel - doing retail and e-comm from the same site - so all it is to us is changing the channel, putting in more mechanisation and technology in the e-comm channel because that is where the growth is coming and we need to make it more efficient."
While next-day delivery has become the norm for home shoppers, some retailers have moved to the next level and are offering same delivery. "We do same-day services for e-comm in our fulfilment centres already in London and the main cities," says Williams. "One operation in fashion does 90-minute delivery. That is where the consumer is taking us – one thing they want is certainty and that is where technology kicks in – it provides better efficiency and more certainty.
"Customers are giving us business because they see their supply chains becoming more complicated across the global economy. Complexity has increased – that is the legacy of the pandemic - but that is becoming the norm. We wish there was more labour availability but that is what contract logistics does – it solves complex problems."