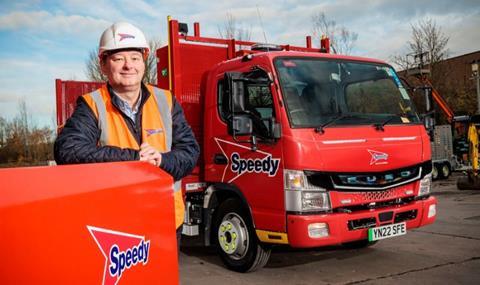 Tool and equipment hire specialist Speedy Services has taken delivery of its first two zero-emission FUSO eCanters, as it ramps up its shift to a zero emission fleet.
One of the trucks is based at a depot near Whitehaven, Cumbria, which supplies contractors working at the Sellafield former nuclear power and fuel reprocessing site, whilst the other works from a branch in Warrington, delivery goods to building firms.
Aaron Powell, Speedy's fleet director (pictured), said: "We're keen to invest in low and zero-emission transport as quickly as is practically possible. We already have around 150 electric vans on our fleet but these eCanters are our first battery-powered trucks at 7.5 tonnes.
"We reviewed the market before settling on the FUSO eCanter. There are battery-electric alternatives available, but these are either aftermarket conversions or vehicles that are very new. The eCanter, by contrast, is a factory-built truck that is already well proven in operation and comes with a bumper-to-bumper warranty.
"Driveline aside, it's also very similar to the diesel-engined Canters that have been providing reliable and cost-efficient service on our fleet for many years."
Powell added that its shift to zero emission fleet is not only for environmental reasons but also in response to customer demand.
"Increasingly, large corporate customers are demanding that every business in their supply chains should take all available measures to operate as sustainably as possible.
"In our case, that means investing in electric vans and trucks, so the eCanter is likely to feature prominently in our plans for the future," he explained.
The FUSO eCanter's electric drivetrain employs six 13.8 kWh lithium-ion batteries with a total power output of 82.8 kWh (66 kWh usable). The permanent-magnet motor delivers 129 kW (180 hp) via a single-gear transmission in the rear axle. A single charge gives the truck an effective operating range of more than 62 miles (100 km).
Speedy's fleet of more than 1,000 vehicles includes 50 at 7.5-tonnes GVW, of which more than half of are from FUSO.
The new eCanters are the subject of a contract hire agreement with Daimler Truck Financial Services and fitted with plant-carrying platform bodies by Bevan Group; these have dropsides incorporating the Black Country bodybuilder's patented Safe-T-Drop system.
Powell added: "With an exceptionally high body and payload allowance, compact footprint and tight turning circle, the diesel Canter has proved to be well suited to our demands.
"The battery-powered version combines the same advantages with a smooth and quiet electric driveline that requires no gearchanges so is even easier and more comfortable to drive.
"Factor in the impressive build quality, reliability and aftersales back-up we've come to expect from the brand, and it's easy to see why we're delighted with our first eCanters."
For more stories tracking the industry journey to decarbonisation see our new Freight Carbon Zero website.