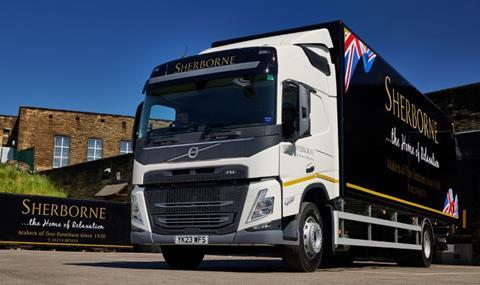 Chair and settee manufacturer Sherborne Upholstery is sitting pretty after taking delivery of two new Volvo FM 4x2 rigids, each fitted with a box body and tail lift.
The Bradford-based company said it had chosen Volvo due to its reputation for fuel performance, driving efficiency and cab comfort.
The trucks are the first of five FMs due to land with Sherborne this year as it continues to replace a 17-strong commercial vehicle fleet that currently consists of 16 18-tonners and one 7.5-tonne unit.
Wayne Watkinson, Sherborne Upholstery transport manager, said: "In our line of work, Volvo is a byword for premium performance and comfort, and I'm delighted to report that our new rigids are living up to that reputation.
"Our drivers were already buying additional accessories before they'd arrived to really make them their own."
He added: "Finding a good driver is hard enough, let alone keeping hold of them.
"That's why we've gone for such a luxurious spec with this latest order. Given how hard they work day in, day out, it's only right our drivers have the tools to do so as safely and as comfortably as possible."
The rigids are expected to cover around 105,000km annually.