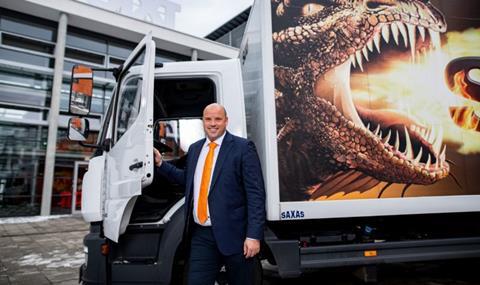 Rental firm SIXT is bolstering its drive for international growth in the van and truck sector with the appointment of former Lidl Germany chief executive Daniel Marasch (pictured).
Marasch will head up SIXT's new van and truck management division. His brief is to help make SIXT a market leading player in the European and US van and truck rental business.
Erich Sixt, chairman of the board at SIXT SE said: "As one of the world's most successful mobility providers, we aim to become a market-leading player in the European van and truck rental business in the long term, while cornering relevant market shares in the USA in the medium term.
"We are looking forward to working with Daniel Marasch and together we will do our utmost to achieve this goal. By establishing the van and truck management division, SIXT is creating the necessary entrepreneurial scope to focus on the division's global expansion – on an equal footing with the successful mobility sector.
He added: "SIXT is also responding to the increasing importance of the Van & Truck product sector, which has proved to be a stable, strong-selling constant in our mobility portfolio, especially during the Covid-19 crisis."
The company said this week that it sees "huge potential" in the van and truck sector and expects a continued rise in demand for commercial vehicles to deliver parcels as online shopping continues to grow.
SIXT has also developed its ONE mobility platform to help ot drive growth in the online rental market.
Konstantin Sixt, chief sales officer at SIXT SE said: "In recent years, the van and truck product sector has become the hidden champion of our product portfolio. We identify a huge sales potential in this area – in Germany, and more so in our international markets.
"By digitalising rental, we aim to improve the user experience for our customers significantly. As we see it, our ONE mobility platform, the highly digitised processes and our determination to grow are the ideal prerequisites for cornering the relevant market shares."
Daniel Marasch added: "SIXT has the vision and determination to become a key international player in the hitherto highly fragmented van and truck rental market.
"I will use all my experience of international logistics chains, full-scale international expansions and success-focused team leadership to achieve this ambition.
"SIXT's entrepreneurial dynamism and lively will to grow are a great incentive for me. Van and truck is set to become a long-term growth driver for our company."