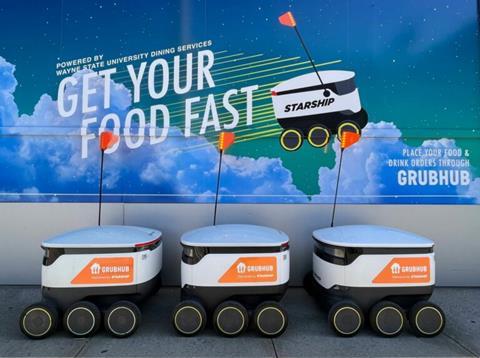 The law is not keeping up with the rapid development of self-driving vehicles and regulation is needed to support sectors such as robot deliveries, an influential group of MPs has been told.
Starship Technologies said the forthcoming Transport Bill presented "a great opportunity" to introduce appropriate regulation to reflect the growth of autonomous vehicles.
However, it added that any new laws should not be limited only to large, road-based technologically-advanced vehicles.
"To be limited to such would exclude entire swathes of innovation and potential," it told the Transport Select Committee (TSC). "It may be that primary legislation is not required to address the challenges faced by micrologistics companies, but some regulation must be forthcoming soon to clarify the landscape we are operating in."
Starship Technologies has pioneered the use of personal delivery devices (PDDs) – self-driving autonomous robots that carry parcels and groceries in Milton Keynes, Northampton and Leeds as part of last-mile delivery logistics.
PDDs travel on pavements and rely on proprietary mapping, navigation and obstacle avoidance technology to reach their destinations.
"Starship believes there should be a national regulatory framework for PDDs and micro-logistic vehicles but understands that this may take time to develop," it told the TSC in written evidence. "In the short-term, decision making about pavement operations should be devolved to local government to allow councils to make the decision about what is appropriate, safe, and desirable for their local areas."