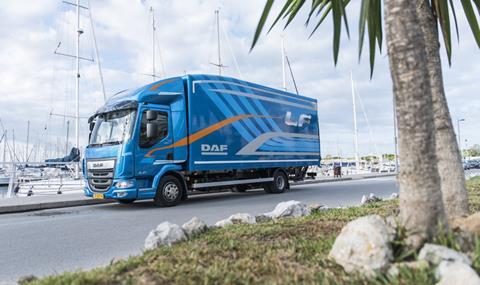 Freight in the City Expo at Alexandra Palace, London, next week will showcase DAF Trucks' new LF City.
The City variant is part of a wider LF range of lightweights (from 7.5- to 18-tonne rigids).
The 7.5-tonner that will be at the expo is powered by an SCR-only 3.8-litre 170hp engine, developing 600Nm of torque. DAF said the Paccar PX-4 – now the smallest engine in the DAF range – has been optimised for urban operation
A 5-speed manual gearbox and super-tight turning circle combine with the PX-4 to provide nimble driving characteristics, and an overall distribution package ideally suited to start-stop vocational applications.
Another vehicle highlight at the expo will be Terberg's Urban Safety Logistics Vehicle. The 18-tonne refrigerated truck was designed in conjunction with Terberg's sister company Dennis Eagle and bodybuilder Gray & Adams.
The free to attend Freight in the City Expo takes place on 7 November and as well as an exhibition of the latest urban delivery vehicles and technology, it features a full seminar programme where expert speakers will address some of the major challenges of the day facing urban operators.