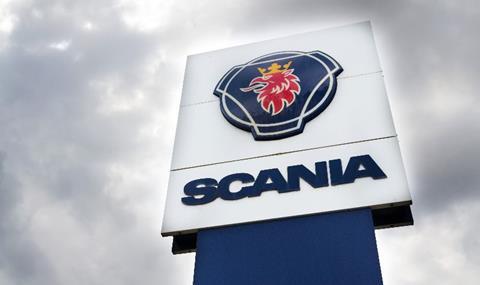 Scania saw net sales fall across the board by 18% last year, in what it described as 'a year like no other'.
Operating income decreased by 49% to SEK 8,887m (£750m) and truck sales fell by 8.5% to SEK 89,934m.
Its results also showed that in the fourth quarter, net sales decreased by 6% to SEK 36,282m and operating income increased by 1% to SEK 3,638m.
Henrik Henriksson, Scania president and chief executive, said a large part of the organization was put on hold during the first few months of the pandemic, but that sustainable solutions and electrification continued to move forward and accelerated the transformation of the company.
Read more
Last year saw the launch of Scania's first fully electric truck range and Henriksson said it had made significant investments in a battery assembly plant, lab and partnership with Northvolt.
He said: "We are in a period of transformative change – a time when the industry will experience some of the greatest shifts in its history.
"As electrification and autonomous technology disrupts our industry, exciting new business opportunities are emerging."
Last month, Scania said it had appointed Christian Levin to replace Henrikkson from 1 May.