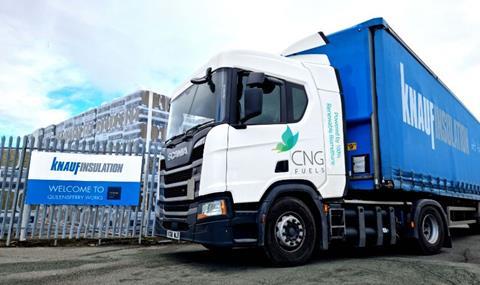 Farrall's Group said it was impressed by the results of a recent Scania CNG truck trial and it now sees the greener fuel as the next step forward for the Chester haulier.
At the beginning of the year, it worked with CNG Fuels to trial the HGV on Farrall's operation for Knauf Insulation and the company calculated it could see a 90% reduction in CO2 produced per truck per year.
It said it is now planning to order a batch of CNG vehicles to be fully operational by 2023.
Read more
Matthew Farrall, group MD at the firm, said: "We've been amazed by the results from the Scania CNG trial and seeing the reduction in carbon emissions they could offer on our fleet.
"CNG vehicles would be ideal to first be implemented into our Knauf Insulation contract, as part of our joint continuous improvement programme within the supply chain.
"We are always reviewing ways in which we can improve our carbon footprint and be smarter in how we operate, transitioning to CNG fuel would appear to be the next logical step in this journey."