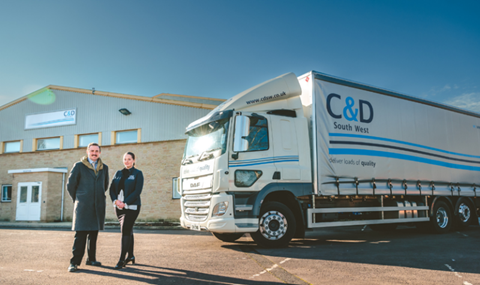 Somerset-based haulage company C&D South West has promoted Charles 'Sam' Hammond to operations director after seven years of working in the family business.
C&D have been operating for over 35 years and are now under the third generation of leadership with siblings Lorna, Cayla and Sam all working for the family business.
Now Sam Hammond has been promoted from the role of fleet and compliance manager, and will join the board of directors as operations director.
Previous roles which Hammond has held in the business include warehouse operative, operations and planning and warehouse management executive. Most recently he oversaw the complex operation of setting up the company's new Martock site, which has allowed C&D to diversify their service offering by setting up a completely new warehousing operation.
The new depot allows C&D to offer clients pallet storage and warehousing services, and a range of other services including container receipt, palletisation, product processing, order fulfilment, and pick and pack.
Sam Hammond's sister, C&D MD Lorna Hammond, said: "Sam is wholly deserving of his recent promotion, not only demonstrating his commitment to the success of the business, but also the team that we employ.
"This is a fantastic milestone for C&D, and for us as a family, as I now get to work alongside my brother in this capacity and focus on ensuring the future is truly bright."
Lorna has been MD since 2019, taking on the role after her father, Charles Darren Hammond. Under her leadership C&D has introduced a range of strategies aimed at creating a sustainable, innovative, and successful business.
Commenting on his new role, Sam Hammond said: "We are a people company, family-owned with many long-standing employees, I have demonstrated my commitment to the business and its success during the years I have worked across different roles, and now look forward to putting all of my learning into practice in my new role as operations director."
The company, which was founded in 1987, is based in Chard in Somerset. It has an operating licence for 43 trucks and 42 trailers.
The family firm offers a guaranteed 24-hour delivery service to every UK postcode every day, with 96% of the business being palletised distribution for customers within a 40-mile radius of its headquarters. The Hammond family are shareholder founder members of the Palletforce network.