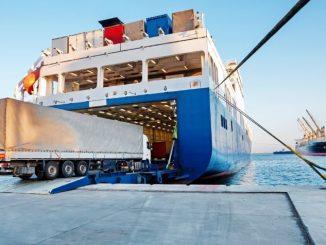 The RHA is standing by its claims that the volume of exports going via British ports to the EU plummeted by 68% last month, despite a government statement to the contrary.
The RHA's calculation, made against the same time period last year, is based on a survey of the association's haulage members.
The survey also showed that 65%-75% of trailers from the EU were going back empty in the same period.
Richard Ballantyne, chief executive of the British Ports Association (BPA), said the RHA's figure of 68% was "broadly in line" with BPA's calculations.
The results of the RHA survey were sent in a letter to Cabinet Office minister Michael Gove on 1 February. The letter also accused Gove and his officials of ignoring calls from the RHA to take measures to avoid this situation, made months before Brexit.
The Cabinet Office posted a rebuttal of the claims following reports in the national press over the weekend which focused on the RHA's survey results.
Referring to RHA's claim of a 68% fall in exports it said: "We do not recognise this figure and further details from the survey have not been shared.
"Flows are monitored on a daily basis by the Border Operations Centre. In the last full week (30 Jan to 5 Feb) both outbound and inbound flows (across all UK ports) were close to normal, at 95% outbound and 96% inbound, in spite of the impact of Covid lockdowns on trade.
"For the same week, flows outbound specifically across the Short Straits were at 82%.
Read more
"The Port of Dover's own data confirms that volumes are close to normal."
Referring to the RHA's claim that that 65%-75% of trailers from the EU were going back empty the Cabinet Office said: "This does not reflect the data from our French counterparts, which puts the figure at closer to 50%.
"It is an entirely normal part of freight flows to have empty lorries on the outbound leg from the UK into the EU - this has always been the case.
"Indeed, estimates suggest that prior to 1 January, around 30% of all outbound lorries were empty.
"Taking the impact of Covid-19 on economic activity into account, the current levels are not surprising when compared to normal outbound flows."
However in a statement yesterday (8 February) the RHA told motortransport.co.uk that it stood by the results of its survey, adding that the government's own calculations show a significant fall in trade across the Channel and the Irish Sea.
It stated: "Using government numbers for every 1,000 lorries leaving UK pre-Brexit, 30% were empty, that is, 700 would have been loaded.
"For every 1,000 lorries leaving UK (post Brexit) we now have 820 lorries, only half (410) are loaded.
"Government's own numbers show a fall of 41.4% loaded lorries going into France."
The RHA added: "Basically borders are not functioning properly. Red tape burden is putting off traders. There are not enough customs agents to process paperwork. We stand by what we said to government."