Renault Trucks returns to Freight in the City Expo this year with a set of new vehicles designed to meet the challenges of the urban environment.
The manufacturer is showcasing the brand new C320 8x4 Tridem in 2.3m cab variant on stand V01 along with the Range D18 4x2 R Low 250 E6 with a Boughton skiploader body.
The Range C320 Tridem (pictured below) delivers the load capacity of an eight-wheeler with the manoeuvrability of a six-wheeler and comes with factory-fitted extra axle adaption.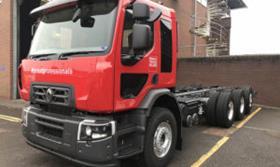 Its smaller, lower cab has a factory-fitted vision window and short front overhang allowing greater manoeuvrability and vision in congested urban environments.
A rear-lifting axle delivers a narrower turning circle which also keeps the truck closer to the kerb when turning left, compared to traditional 8x4s, reducing the high-risk area for cyclists when turning.
The Range D skiploader (main picture) includes two-step access with a step height of just 375mm. Equipped with a factory-fitted vision window in the nearside door, the vehicle is specified with a full CLOCS safety system, including cycle sensors and the Roadcrew 4 camera system with recorder.
Nigel Butler, Renault Trucks commercial director, said the urban concept C2.3 Tridem is particularly suited to the construction, logistics, distribution and refuse sectors.
"The combination of the low cab with the tridem rear axle lends itself to use as a walking floor tipper, a concrete mixer or a rigid distribution model where the urban concept's weight advantages and manoeuvrability will be of particular benefit to operators working in constrained urban environments," he added.
Meanwhile on stand V53, visitors to the show can see the new Renault Trucks Master Welfare Van and the Master Optilogistics Van on display, both of which are from Renault Trucks' 'Ready for Business' range.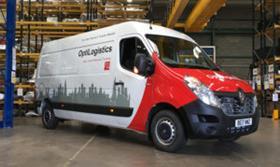 Freight in the City Expo takes place on 7 November at Alexandra Palace, London. It is free to attend, so why not register for your pass today!