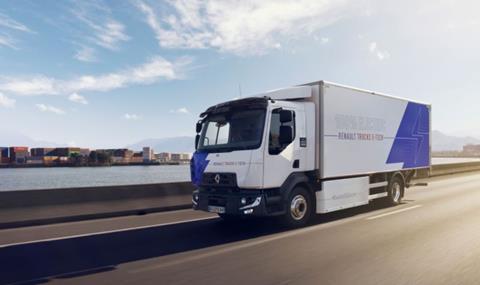 Renault Trucks said it had seen "significant business growth" in 2021, with a 25% increase in vehicles invoiced, despite disruption to supplies.
In its heavy and medium duty ranges there was a 27% increase in deliveries to 33,422 and there was an increase of more than a fifth among its light commercial vehicles, to 18,038.
The brand confirmed strong results across Europe, with a 41% increase in invoicing in the market for vehicles over six tonnes.
In France, Renault Trucks now has a 10-year high market share of 29.8%.
It performed particularly well in Poland, with an 89% increase (1,705 vehicles) and in the UK with an increase of 56%.
Renault said demand for used trucks also remained high last year, in a marked boosted by an upturn in activity and a shortage of new vehicles due to disruptions to production.
However, it invoiced 13% fewer (8,926 units) vehicles than in 2020, which it said was down to historically low stock levels.
During the year, it also delivered 249 electric trucks and took 613 orders.