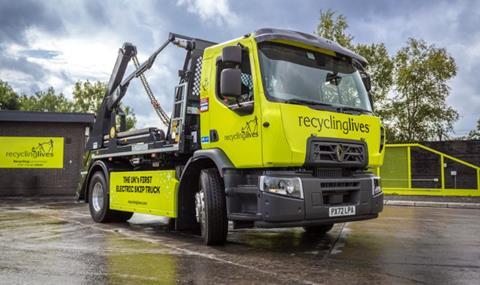 Waste specialist Recycling Lives has fitted blind spot camera systems and alarms on its new all-electric skip transporter trucks in order to warn vulnerable road users.
The Renault Trucks 19-tonne E-Tech DZEs have been fitted with Vision Techniques' Turnaware and Turnalarm systems and telematics.
The EVs are being used in daily operations, servicing commercial and household clients.
Read more
Eddie Hollingsworth, head of transport operations at Recycling Lives, said: "Our industry is fast-paced and is at the forefront of ensuring collectively we minimise our impact on the environment.
"Moving to a decarbonised fleet is one way we can do that, but we also need to ensure that safety is paramount."
Dave Smith, operations manager at Vision Techniques, added: "We're proud to have our products used on their vehicles and help them create a transport fleet that is incredibly safe for its people and the public."