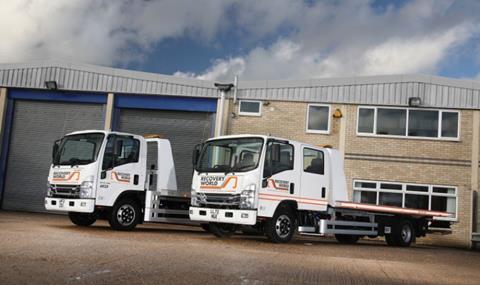 Recovery bodybuilder and rental firm Recovery World has ordered its first ever Isuzu 13.5-tonner, which will come fitted with an RW60 six-tonne steel Slidebed body.
The recovery truck will be delivered to the Hertfordshire company before the end of the year and adds to the 20 new Isuzu 7.5-tonne vehicles joining its nationwide rental fleet this year.
"With Isuzu, you always know what you will get," said Recovery World director Max Engledew.
"It's a great recovery truck specification, the nationwide dealer network backup is there when you need it, and the ITUK customer care operation is absolutely outstanding, ensuring that our vehicles perform to their maximum at all times."
Recovery World runs over 150 vehicles nationally and has operated almost 300 Isuzu trucks in its 21-year relationship with Isuzu.
This latest expansion of the Recovery World fleet coincides with the company's recent acquisition of B&T Vehicle Hire in Hoddesdon.