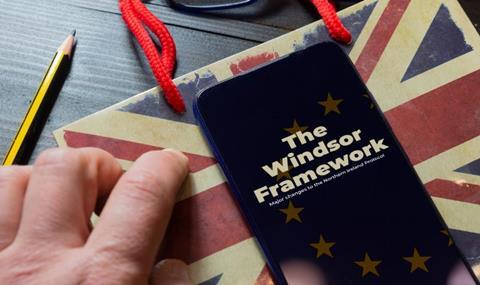 The RHA is calling for greater government clarity on moving goods between Great Britain and Northern Ireland under the Windsor Framework, to prevent delays and avoid damaging Northern Ireland's economy.
The Windsor Framework replaces the Northern Ireland Protocol and introduces new processes designed to better manage post-Brexit trade between Northern Ireland and the rest of the UK.
These include the launch of the UK Internal Market Scheme (UKIMS) on 30 September, which will replace the UK Trader Scheme (UKTS).
UKIMS authorisation will provide access to a fast track "green lane" for goods moving from Great Britain into Northern Ireland.
Goods moving through the green lane will not be subject to the same processes that apply to other goods entering Northern Ireland and businesses will be able to submit a simplified dataset, based on commercial information.
The annual turnover threshold for businesses which process goods in Northern Ireland will also increase to £2m.
In addition, on 31 October 2023, the Temporary Agrifood Movements to Northern Ireland (STAMNI) will be replaced in October 2023 by the new Retail Movement Scheme.
Businesses moving goods under the scheme will be able to benefit from the new green lane arrangements provided for in the Windsor Framework and goods will move on the basis of a single General Certificate for eligible consignments, supported by a packing list.
There will no longer be a need for an official vet to approve the documentation. Instead, goods will move on the basis of a trader declaration under the authority of the UK competent authority. Movements of goods which do not qualify under STAMNI will move through the "red lane".
Read more
This week the RHA called for greater clarity on these changes. It said operators are still unclear how the customs red and green lanes will work in many scenarios, including those involving groupage.
It warned that whilst some concerns of its members have been addressed, there are still areas which need more detail to be workable.
Areas of concern include the labelling of goods. RHA said processes for movements of Sanitary and Phytosanitary (SPS) products, such as animal and plant-based goods and protocol on health certificates, still remain unclear.
Questions also remain about possible exemptions for firms that guarantee they won't sell domestic market products into the EU via Northern Ireland's border with Eire.
THe RHA says the government also needs to clarify that firms with a minimum £2m turnover will be able to use the green lane for goods 'not at risk'.
The association also wants the government to help set up a groupage working party, involving RHA members and government officials with a brief to promote better understanding of how freight moves, to help improve the implementation and operation of the scheme.
John Martin, RHA Northern Ireland policy lead said that businesses need guidance on how new processes are going to work amid industry concerns that a lack of clarity will cause delays and make Northern Ireland's economy less competitive.
He added: "We need to do everything we can to keep the supply chain resilient to protect trade in Northern Ireland.
"Our members are understandably concerned about the day-to-day workings of the Framework with a few weeks to go.
"For example, if a pallet on a truck has goods going on to the Republic of Ireland then the entire load which is primarily destined for Northern Ireland will be processed through the 'Red Lane' which adds bureaucracy and cost.
"We continue to work closely with the Cabinet Office, HMRC, DEFRA and the Northern Ireland Office on finding solutions to the Framework's practical complexities to protect and nurture our supply chains."