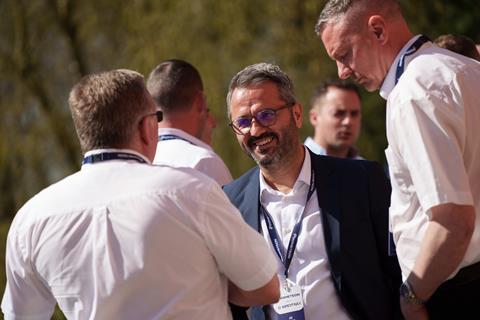 Prometeon Tyre Group is working with its UK tyre dealers to launch its SuperTruck UK network, which will supply its branded tyres, and tailored maintenance and audit services for truck fleet operators.
SuperTruck was first launched in Italy in 2019 and is currently rolling out in Poland, Greece, Cyprus, Spain, Germany, and Switzerland.
Prometeon UK has been working with UK tyre dealers to tailor their product offering and services in line with the company's SuperTruck initiative, which is designed to support the needs of truck fleet operators.
The SuperTruck service offer for dealers is flexible and runs alongside the supply of Pirelli branded tyres produced by Prometeon under licence.
The dealers that have been selected will benefit from tailored training and technical support from Prometeon's tyre experts.
The company launched its UK SuperTruck network at Hoar Cross Hall Spa and Hotel in Burton-on-Trent, which was attended by SuperTruck tyre dealers from across the UK. Prometheon said it is the first of many SuperTruck dealer events that are planned.
Read more
Prometeon's senior management and sales team presented the full range of benefits of the SuperTruck programme at the launch, as well as highlighting new products and services.
India Gould, Prometeon's marketing manager said: "We hold the same end goal as our dealer network of offering a consistently high standard of service to truck fleet operators.
"The event was the ideal opportunity to get to know the dealers and explain the benefits that the Prometeon partnership offers their business."
Ali Yilmaz (pictured), Prometeon's managing director UK, Ireland and Nordics, added: "It's important that we work collaboratively with our tyre dealer partners to grow and develop the Prometeon market offer and, at the same time continue to support all our dealers in growing their businesses through the supply of quality products and associated services tailored to the needs of truck fleet customers.
"SuperTruck will be a key component of our product and service growth and delivery plan as we move forward."
Why not visit the Prometheum team at this year's Road Transport Expo, which takes place from 28-30 June at NAEC Stoneleigh. It's free to attend, so book your place today!