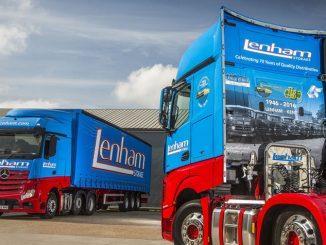 Lenham Storage Company is continuing to struggle to retain European staff, with whole families employed by the Maidstone-based firm choosing to return to their home countries following Brexit.
In a review of its latest annual results the company, which has an operating licence for 114 trucks and 235 trailers, said: "Challenges facing the company during 2021 will include the continuing issue of the retention and recruitment of drivers and warehouse and office staff, particularly those from Europe. We saw the continuing drift of EU staff who returned home.
"This was impactful because the effect was not just felt on an individual basis but where whole families were employed, the family moved together, leaving a challenge for HR in recruiting ideal replacements. Many of these were, and are, excellent workers."
The company also reported "significant challenges" created by the activation of Operation Brock on the M20 as a result of Brexit.
Turning to its results for the year to 31 August 2020, the company reported revenue rising to £41m (2019: £39.1m) with pre-tax profit continuing to recover from an 8% drop in 2019, showing a small rise from £1.1m to £1.2m in the period.
Read more
Lenham Storage Company said that, despite the challenges of Brexit and Covid-19, it had enjoyed a successful year of trading, helped by its operations in the ambient grocery and FMCG storage and distribution sectors which saw rising demand during the pandemic.
The firm added that it is continuing to look for expansion opportunities, with its desire to have a Midlands hub remaining "our ultimate aspirational goal".
Its sister company Lenham Storage (Southern) also reported its annual results this week, revealing a slight rise in turnover to £10.264m (2019: £10.261m) with pre-tax profit up at £349,366 (2019: £321,537). The company, which has a licence to operate 80 trucks and 45 trailers and employs 119 staff, is based in Andover.
Lenham Storage (Midlands), which the company launched in Loughborough in June 2019, as part of plans to expand the company's geographic footprint, is currently dormant, according to Companies House.
A request for comment has yet to receive a response from the company.